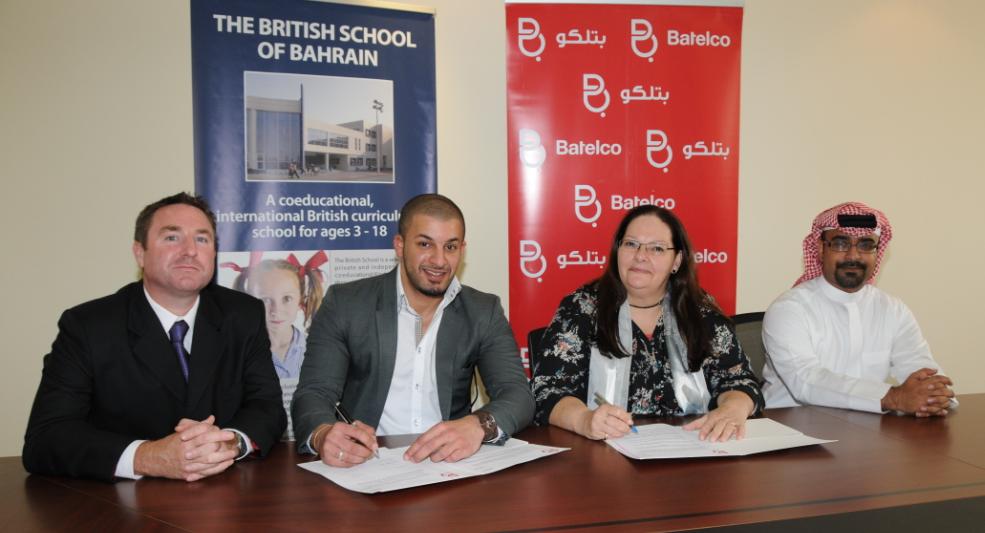 Batelco and British School Summer Internship Programme
Batelco, one of the Kingdom's major supporters of educational initiatives has signed an agreement with the British School of Bahrain to provide a summer internship programme for 14 of the school's senior students.
Batelco has entered into the agreement as part of their CSR programme and strategy to network with schools, build stronger ties and create opportunities for students. The programme will be lead  by Batelco's Youth Segment Team with support from Batelco  Training Centre. Batelco Youth Segment Marketing Manager Mohamed Abdulaal and British School of Bahrain Head Karen Moffat signed the agreement at the British School last week in the presence of the participating students.
The students will take part in a one week programme which has been developed specifically  in alignment with their business studies and will give them an insight in Batelco's operations including familiarisation with the corporate structure of the company. Upon completion of the programme, Batelco will present the successful students with certificates and letters of recommendation.
"The British School of Bahrain has an excellent reputation for the calibre of its education and we are very pleased to support their aim to provide work related experience to their senior students," said Batelco Bahrain General Manager HR Suhaila Alnowakhda.
Batelco Bahrain General Manager HR Suhaila Alnowakhda said that Batelco strives to support educational efforts as part of its CSR programme.
"We are delighted to open our training facility to students from local leading educational establishments. We are confident that the BSB students will benefit greatly through this learning experience at Batelco," added Mrs. Alnowakhda.