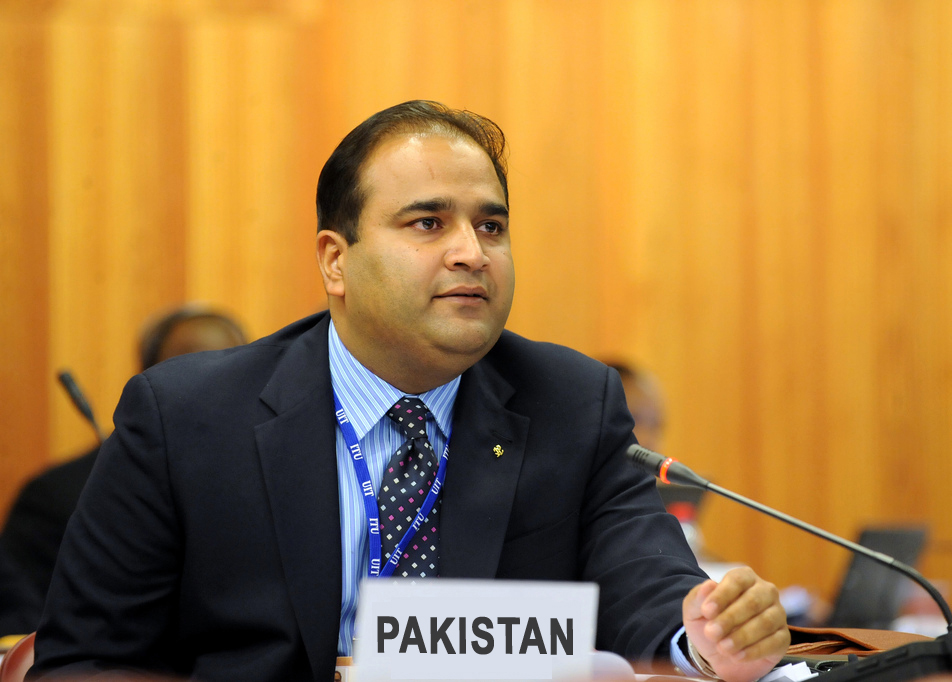 Child Online Protection
This Paper investigates the potential online threats to children and measures required to oppress such threats in a developing Internet nation like Pakistan. The paper not only culminates the thoughts, feelings and concerns of young people and their parents over the use of technology, but also concludes the survey carried out in Pakistan in Oct 2010 on Child Online protection, encompassing all the salient features as were envisaged by ITU in its COP National Survey Report. The paper also highlights the current status of Child online Protection in Pakistan and necessary way forward based on a National Survey.
Introduction
Amid all the Information and communication technologies of this era, the most imperative, cost effective and prompt information dissemination novelty is "The Internet", not only it has become an essential fraction of the global information society, but has also nurtured  the overall economic growth by creating new jobs, encouraging modernization and improving national competitiveness. It is an amazing means of communication which can web information across the globe and offer it to any nook and cranny. It is a multi flavor stage soo open that anyone, anywhere, anytime can jump into it for instance paying electricity bills, downloading a multimedia video, playing an online game, advertising your product, checking the status of shipment, applying for a job, developing social networking, providing electronic government services and enabling economical VoIP for remote areas and so on. Recent phenomenon of information based society has evolved almost all age-groups and sectors of an economy, though internet.
At the same time the Internet is also described as an unlegislated space for abandoned content. It is a source of obscene and obnoxious material, religious secularism, a growing threat to personal privacy, largest source of harmful computer viruses and an infringement of copyrights. These issues are undisputedly affecting the children, who at this phase of life possess immaturity and can portray a wrong analysis and objective to things, if not presented correctly. This paper examines the potential online threats to children and measures required to confiscate such threats in a developing nation like Pakistan, where digital divide and access are still more of bigger problems than the subject at hand. Moreover, the paper also highlights some of the salient features of the survey carried out in Oct 2010 in Pakistan relating the subject matter.
The World of Cyber Age
The communication media today has major influence on our lives, the way we think, react and behave somehow is influenced by the media. Minors and sometimes even adults do not apply critical thinking to contents. They are unable to strike a balance between risks and opportunities offered by online contents. Social demands and cultural variability though pose a potential influence on the control of contents in a particular country, however the issue of child online protection has been mandated by almost all quarters. A close look at the internet and its growth trends in developed and developing countries is necessary to culminate opinion about the issues of this ever growing Cyber World.
The Internet has shown a phenomenal growth in terms of subscription over last few years. Today, worldwide Internet users are over 600 million users in Asia, 130 million in Latin America and the Caribbean, and 50 million in Africa.(Source ITU: ICT Indicators database2008).
The following graphs depicts the global Internet subscription growth in terms of various modes of Internet provisioning from 2003-2009. The comparison is presented separately for developed and developing countries. The comparison depicts that if the mobile internet subscriptions are on the rise in developed world then for developing countries fixed internet subscriptions are periodically on the rise too.
Source: ITU
Source: ITU
Definition of "Child"
Various nations have defined "child", However most of the countries have defined it as someone below the age of 18. In Pakistan various definitions of child exist:
1.        According to the  Article. 11. The Constitution of Islamic Republic of Pakistan, 1973.- S. 3 (1). Definitions.- The Punjab Destitute and Neglected Children Act, 2004 (Pb. Act XVIII of 2004), child is defined as
(e)"child" means a natural person who has not attained the age of eighteen years.
2.    Also in The Pakistan Penal Code, 1860 (Act XLV of 1860) S. 299. Definitions.-
(a)  "adult" means a person who has attained the age of eighteen years;
(i)  "minor" means a person who is not an adult.
3.      Convention 182 of the International Labour Convention on' Elimination of the Worst Forms of Child Labour' defines a child as "anyone under the age of 18".
4.        Also The United Nations 'Optional Protocol to the Convention on the Rights of the Child defines a child as anyone under the age of 18 unless majority is attained at an earlier age under the applicable law.
The definition of a child referred here within this document is "a person who is below 18 years of age". However it must be kept in mind that age, grade and gender of a child also matters as for instance children with premature mind sets may often be visiting the political websites and activists might be using them for radical activities in a country. The same is a very intense issue as far as Pakistan is concerned. Similarly according to various studies both genders exhibit different patterns of website visits.
Emerging problems
Since internet has no boundaries so the issue has to be solved globally. Nevertheless there are certain problems that relate to or within the boundaries of a specific country. It is the responsibility of every country to flag such issues so that they could be dealt in a fair way. For instance in  a developed world a child may be naïve enough to land in a website or content which is not permitted for a child of his age, and invariably he might develop  a wrong understanding of things and harm himself. On the other hand in a developing country like Pakistan an immature mind might land into a website which exhibits racism and religious discord. These sites inflict hatred and extremism which ultimately have daring consequences on not only that kid but he might end up in a suicide attack, thereby harming himself and hundreds of others. So this is a different yet imperative dimension of protecting young children online.
In this day and age when children have access to camera phones, wireless hot spots and easy-to-hide computer chips that can store vast collections of content, they are more vulnerable to risks, since any and every kind of information is available for them and that too all the times. Children in the age bracket of 6-14 years are most vulnerable to risks, one of the reasons for this is the loss of the parental control. Parental control is difficult to emphasize because in most of the situations, since in most of the cases both of the parents are working and it is kind of difficult for them to monitor the activities of their kids. On the other hand in a developing world there is a vast majority of parents who are not educated at all, and mostly it's their first generation who is attending schools or have access to any sort of online information. In such cases the parents/ guardians are naive enough to know what sorts of information their kid is exposed to? What could be the potential harms that this information could inflict? The kid might be in a regular contact with a person or group online, who could very easily brain wash an immature mind and the result could be devastating at the end. Also it is a very common practice these days to seek advice online, since kids would like to share and get opinions about things which they might not as otherwise be comfortable talking with their parents. So it is very essential that the content should be monitored that could potentially harm minors, and not only parents but teachers should also play an active role for identifying issues and problems that could threat children.
Importance of Parenting
Parents who are fairly firm and consistent in their expectations of how their children should behave but who are also warm and affectionate and respect their children's opinions tend to produce competent and self-reliant preschoolers. When parents are very controlling and more concerned with their own needs than with those of their children, their offspring may be fairly self-controlled not very secure or confident in their approach to new situations or other people. Very permissive parents, who neither reward responsible behavior nor discourage immature behavior, produce youngsters with the least self-reliance and self-control. In short, competence and self-confidence in young children seem best fostered by a warm and nurturing home where parents reward responsible behavior but also encourage independent action and decision making (Baumrind, 1972). "Treat them (children) as though they were young adult. Dress them; bathe them with care and circumspection. Let your behavior always be objective and kindly firm" (Watson, 1928).
Child Online Protection –ITU Concepts and Concerns
With the growing advent of contemporary internet technologies, the scale of use and online threats has also galvanized. These threats are not only harming minors but also resulting in damaging the confidence of parents, and the last they can think of is banning the kid from Internet accessibility. This might not pose a very good solution, since internet on the other hand is also adding to the knowledge of the kids, and in this day and age when the use of libraries is scarce and most of the knowledge that children acquire is either through schools, parents or internet or any other communication media that is available to them, it should be considered important to regulate the access of information to these kids, by scrutinizing first what should be termed right and what should be termed wrong for them. It may also be kept in kind that according to various surveys the  children that are most at risk are among the age group of 6-14 years because of the neglect of parental control.
ITU has sketched a vivid picture of the actors involved in the measurement of Child Online Protection and relationship between these actors. These actors involve Children, Parents and Guardians, Educators, Governments, Industry Players and perpetrators.
Source: ITU
The ease with which information can be accessed via cyber space has several social and cultural ramifications. Some of the online threats faced by Children are.
a. Sexual Abuse
While on-line world exploration opens a whole new world of opportunities for children, expanding their horizons and enhancing their knowledge and vision, it is widely believed that they can also be exposed to dangers as they drive on the road of Internet, the information highway. There have been number of incidents where individuals have attempted to sexually exploit children through the use of on-line services and the Internet. These individuals gain necessary attention gradually through use of affection, kindness, and even gifts. These individuals attempt to gradually attain the concentration of these new users of online-world by slowly introducing sexual context and content into their conversations.
b. Privacy Issue
Children are a highly marketed segment of the consumer population.  Advertisers and marketers can use the Internet to target children and gather personal information from them for marketing purposes. Furthermore, the present boom of social networking has also raised the concern of privacy among teenagers where at times they are not at all aware of what kind of information should be posted by them and what number of audience may fetch their private information. Here in Pakistan a number of such complaints have been received where some very private information of kids was shared online resulting in deep stress to parents.
When children visit commercial web sites, they might be tempted to fill out surveys, exchange personal information for gifts, register for club memberships, sign up to receive games, and give up personal information in chat rooms. All of these information fetching techniques are affecting kids.
c. Exposure to inappropriate Images and Content
The open nature of Internet with regards to access of any particular type of content is what presently could be taken as a very serious challenge to protect our kids online. It's as simple as putting a sexual word inside a search engine and getting thousands of pages inviting to browse the relevant content. This exposure to inappropriate images and content is more unsafe in developing countries like ours, where this upcoming generation of teenagers has an access to Internet at private places like net clubs with no restriction at all. Moreover, the parents generally are almost unaware of Internet and its usage; thus they are not able to guide their children about the pros and cons of open Internet access.
Measuring the Child Online Safety
Given the multitude of happenings and activities related to use of internet by Children,  concerns in regards to sufficient and coordinated input, efficient and effective processes for child online protection arise, these concerns should enlighten us in terms of how well we are doing and what else should be done. Question arises, can we measure the efficiency and effectiveness of Child Online Safety? Here comes the critical value of "process indicators" that articulate where do we stand and how to improve on certain areas, what areas need attention and how to emphasize efficiency and effectiveness to these areas. On International forums, various discussions and methodologies are being developed on kinds of data that need to be collected, benchmarks that need to be established? All of these issues could be tackled through coordinated approach.
Survey on Child Online Protection Assessment in Pakistan (Oct 2010)
M/s Paradigm Technologies (private research company) carried out survey in Oct 2010 to assess and investigate Internet usage and its trends among age group of 8-18 years. The survey was carried out inline with ITU's indicators outlined in "Child online protection CoP Initiative". The survey also measured and evaluated online risks and opportunities.
A sample size of 1,127 was considered. Sample size included 717 Parents and guardians, 300 teachers and 200 kids. The samples were collected through a face-to-face interaction through a survey form and also through online survey form. The key findings of the survey are summarized below along with graphical representation.
According to the survey, home Internet access to children is quite high. 89% of the survey participants told that their kids in different age groups are using Internet at home.  The interesting fact is that young children from 8-14 age groups are having a growing usage pattern for the Internet which shows a requirement for evaluating the 'Child Online Protection' policy framework inside the country.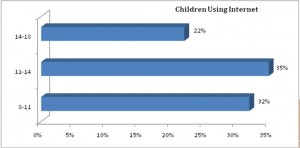 Source: Paradigm Technologies, Oct 2010
Several questions were asked to measure the level of attention parents confer to assess the online activities of their children. Responses show that generally parents are not attentive towards the online issues that are putting their children at risk. They are also not interested in monitoring their children online habits at large, the primary reason behind could be the lack of time and lack of general awareness among the parents. This really is an alarming situation requiring immediate intervention from both public and private institutes to enable safe Internet access to our young users.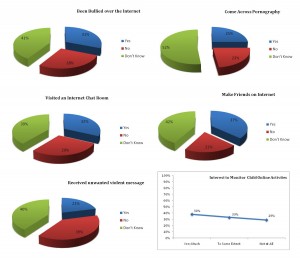 Source: Paradigm Technologies, 2010
A couple of questions were exclusively asked from the kids to judge their Internet activities, frequency of their Internet activities and about their contact with inappropriate online content. The kids were mainly segregated as daily and weekly users. Results indicate that children between the age of 8-18 years use Internet on daily or weekly basis, 88% use it to do school / college work, 82% for playing online games and 78% use it to get information for other things.
Almost six out of every ten, cumulatively (53%) have come in contact with pornography, 34% have accidently found themselves on a pornographic website, 31% received pornographic junk mail by email or messenger and 30% have seen a pornographic pop-up advertisement while browsing Internet sites.
Source: Paradigm Technologies, 2010
Source: Paradigm Technologies 2010
In order to verify the interest of the parents to monitor online activities of their children and the assumptions in children's mind, few questions were asked. Parents are generally unaware of their responsibility to manage their children's internet use, only 31% of them ask their children about their online activities, or monitor it themselves.  Similarly responses of children also imply that their parents are not much bothered about their Internet usage.
Source: Paradigm Technologies, 2010
The last question of the survey inquired as what would be the priority action that they want to minimize the online risks faced by children while using Internet. Majority of the parents were of the view that strong domestic rules should be implemented with necessary teaching guidelines available with schools / colleges and parents should also be engaged for necessary advice with respect to required measures and actions by parents.
Source: Paradigm Technologies, 2010
Conclusions & Way Forward
1.    Since much collaborative efforts have been done on the issue soo far. The developed world has raised this issue in a much precise way addressing almost all the concerns relating this issue; however there is still a segment of the issue that is left unnoticed. In a developing country like Pakistan an immature mind might land into a website which exhibits racism and religious discord. These sites inflict hatred and extremism which ultimately have daring consequences on not only that kid but he might end up in a suicide attack, thereby harming himself and hundreds of others. His young mind could easily be casted with information, which might not be accurate, chat rooms prove to be easy access for such activities. This is a very common practice which not only affecting the future of a particular child, but also costing his own life especially in a country like Pakistan. So international assistance, suggestions and guidance is solicited on the issue.
2.   Children access the Internet in diverse environments (School, Home, Other places). Pakistan being a developing country has one of the highest numbers of children living below the poverty line. In most of the cases where children have access to online content, the parents are naive enough to understand technology and information dissemination thorough that particular technology, since in majority cases it is the first generation that has access to education and access to any mode of communication technology, so they are not very bothered about what their kid is coming across when he is accessing any sorts of information through any gadget. The reason that's accounts for such a behavior by parents is their ignorance to the use of technology. They might be educated through any forms of mass media. Ad's and programs to educate parents through Tv could prove to be helpful in this case. Once the parents/ guardians are educated only then they can eye the activities of their kid. Also an adult supervisory role is very imperative as far as child online safety is concerned. This disparity has to be dealt in an appropriate manner to facilitate a safe and secure Internet utilization for our next generation.
3.   There is a requirement to teach Children in Schools about what are online threats that they may confront while using Internet. The survey results show that majority of the children are not aware if they have accidently landed into an undesired web content. Inclusion of certain short courses in their syllabus can be of help, also access to undesired content at educational institutes should be monitored by concerned.
4.      Improved International cooperation is needed to eradicate the growing problem of child-sex tourism. Internationally $4 million software program called Child Exploitation Tracking System (CETS) was developed following an e-mail sent to Bill Gates in 2003. CETS program allows police forces to work together more effectively, searching for and exchanging encrypted information about offenders and victims. The main purpose of CETS is to connect the police forces. Parents in the Western world are recommended to inform the police if any objectionable material is found in their child's PC which frightens them. There is also a global task force formed to track down pedophiles known as Virtual Task Force which can be contacted at www.virtualtaskforce.com. Sadly in Pakistan there is no such thing as police helping out parents in tracking down child sex abusers.
5.   International cooperation for development of unified indicators to measure the present level of online child protection status in an economy is imperative. This would indeed help in effectively improving the countermeasures required by a particular country. In Pakistan also, there should be more effective Internet laws and policy organizations, internet watchdogs, research institutes and think tanks, advocacy organizations, and professional associations where this issue could be tackled in true letter and spirit.
6.      Media should play a pivotal role in educating masses in publicizing the contribution of the Internet to the society as today's major changes in developing countries like Pakistan. This includes talk shows, TV programs with known celebrities educating masses so that more viewership would be there, morning shows as people especially housewives are very fond of these shows.
7.      The policy makers and the government officials should take effective measures against the pedophiles by tracking them down and their associates and banning their sites. There is requirement of a National level strategy action plan brining on board all relevant stakeholders to address this growing challenge.
8.      Strengthen national collaboration and coordination, institute legal measures, consistently advocate and raise awareness, enforce and monitor. In this regard recommendations from major international forums such as the world congress on sexual exploitation of children and IGF  should be promoted and highlighted for states to ensure their implementation.
References:
1. Baumrind, D. (1972) Socialization and instrumental competence in young children. In Hartup, W.W. (ed.) The young child: Reviews of research, Vol. 2. Washington, D.C.: National Association for the Education of Young Children, pp.202-24. 86.
2. Erikson, E.H. (1963) Childhood and society (2nd ed.). New York: Norton. 73, 97.
3. Kohlberg, L. (1969) Stage and sequence: The cognitive-developmental approach to socialization. In Goslin, D.A. (ed.) Handbook of socialization theory and research (KOHLBERG, L. (1973) Implications of developmental psychology for education: Examples from moral development. Educational Psychologist, 10:2-14. 81, 83.
4. ITU Child Online Protection Initiative http://www.itu.int/osg/csd/cybersecurity/gca/cop/
5. Watson, J.B. (1928) Psychological care of infant and child. New York: W.W. Norton. 85.