Cisco Recognizes Channel Partner Successes at its Partner Summit UAE 2012
Ongoing Commitment to Partners Highlighted with Cisco Awards for Top Performing UAE Channel Partners for 2012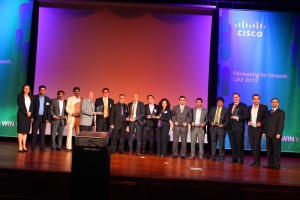 At its recent Partner Summit 2012. held at Zabeel Saray – The Palm, Cisco demonstrated its ongoing focus and commitment to its Channel Partners by recognizing the achievements of its top performing ones in the UAE for 2012.
The company used the event to launch its FY13 Partner Program –  Partner Plus – a new global channel program targeting mid-sized customers.   Partners who participate in the program will receive increased preference, investment and support in the form of business accelerators such as incremental incentives, engineering support, marketing and demand generation, sales enablement, and customer intelligence.   Partner Plus is a key pillar of Cisco's Partner Led strategy, which is designed to empower and reward channel partners to lead the sale with small and mid-sized customers.  This approach combines the power of the partner sales force and Cisco's sales force in an innovative way to go after these market segments.  This is part of the $75 million investment that Cisco announced in 2011 for enablement, systems, and support capabilities.
Themed "Partnering for Growth" this year, the annual Cisco Partner forum serves as a platform for partners to interact and build relationships with company executives and learn about Cisco's strategic direction, business priorities, products and products for channel partners. The event also highlights emerging market trends and Cisco's plans to capitalize on these opportunities together with its partners via successful innovation and collaboration.  At this year's event the three key topics of focus were Cloud, Services and Partner Led initiatives.
Cisco is putting a concerted focus around channel partner initiatives, and currently more than 80 percent of its business goals through the channel. Cisco's strategy is to accelerate the Partner Led model at a global level and Middle East level to create new growth opportunities for partners and help them accelerate the growth of their businesses.
"In the UAE and on a regional level, our partners are core to our business and a key driver for future growth," said Claire Jones, Regional Manager, Cisco UAE. "We are using the opportunity through Partner Summit to acknowledge that our channel partners who are critical to the company's success. The forum gives us an opportunity to recognize our partners' achievements and reinforce our commitment to working with them to ensure that Cisco retains its leadership position in the industry."
The Cisco Partner Summit UAE 2012 Awards winners are:
1. Best Select Partner of the Year: Fujisoft
2. Commercial Partner of the Year: GBM
3. Commercial Distribution Partner of the Year: Logicom
4. Services Partner of the Year: GBM
5. Transformational Partner of the Year: Honeywell
6. Enterprise & Public Sector Partner of the Year: Emircom
7. Data Center Alliance Award of the Year: Bios ME
8. SP Partner of the Year: Etisalat
9. Partner Marketing Award of the Year: Teksalah
10. Fastest Growing Partner of the Year: Site Technology
Cisco continues to  invest in initiatives and programs designed to supporting partner in the form of marketing resources, incentive programs and access to Cisco Technical Engineers Network to accelerate partner growth. Those measurable initiatives will be targeted mainly towards two important goals: Channel enablement & lead generation. Enablement will accelerate Cisco's channel relationship, reputation & trust with customers.