Customers in Quriyat are latest to feel faster speeds of Turbocharged Nawras Network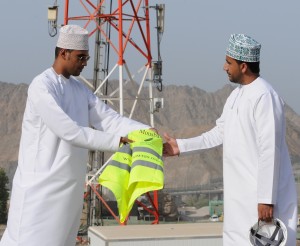 All Nawras base station sites in Quriyat are now providing customers with faster broadband speeds and a richer online experience after a recent successful upgrade to 3G+technology and the addition of a second data carrier. This marks the start of phase two of the Network Turbocharging programme which is being rolled out nationwide.
Results of a survey carried out at end of the initial phase of the extensive programme clearly show the positive impact of the network changes and how customers are now using the faster broadband services more often and for much longer.
Turbocharging is continuing along the Al Batinah coastline from Al Suwaiq towards Shinas. By November, customers in Fahud area will also start to benefit from the second stage of turbocharging. The countrywide turbocharging programme will continue in phases until all Nawras base station technology has been replaced.
Speaking about the progress of this extensive undertaking, Nawras Chief Technology Officer, Wolfgang Wemhoff, said, "Many new sites have been going liveover the past 12 months as our team of more than 500 people works around the clock to ensure customers can experience a world class service from Nawras. After turbocharging the densely populated areas of Muscat we are now activating more sites and rolling out the new network technology to many more customers in areas north and south of the capital. I am pleased to say that the upgrading process is now faster and more efficient than before and customers in the newly turbocharged areas will begin to notice the exciting changes very shortly after we activate the second data carrier in their area."
Explaining how to benefit from the turbocharging, Wemhoff added, "Customers can enjoy the new data experience with entry level plans starting from as little as 500 Baisa for a weekly WhatsApp 50 MB plan or just one Rial for one GB of data on the daily Nawras  Mousbak plan."
Broadband usage has dramatically increased since the Network Turbocharging programme began. In June 2013, an independent study conducted by leading consumer researchers MRI showed that 93 per cent of customers interviewed were 'satisfied' or 'extremely satisfied' with the quality of service offered by Nawras. Whether watching a video on YouTube, downloading a large file or posting a photo on a social media site, customers agree that the experience is now richer and noticeably faster.
Switching to Nawras has also been praised for ease of access and quality of service. According to the same MRI survey, 61 per cent of new customers in May and Junemoved to Nawras for good network coverage and good internet while 87 per cent of new customers said transferring their number to Nawras was 'easy' or 'very easy'.
Customers from Al Bustan to Al Mussanah and beyond are already enjoying the turbocharged network, benefitting from faster 3G+ and in many areas, superfast 4G broadband, too. During the completed first phase of the programme, Nawras invested 60 million Omani Rials in the future of broadband in the Sultanate by adding the latest communications technology, upgrading the core network, installing many more new base stations and activating two new data carriers to more than double capacity and speeds as well as greatly improve indoor coverage.
Since its launch in 2005, Nawras has continuously provided pleasingly different and innovative solutions to enrich the daily lives of people in Oman through better communications.
#3G+technology #base station sites #broadband #Nawras Network #Quriyat