Etisalat General Assembly approves dividend at 60 fils par value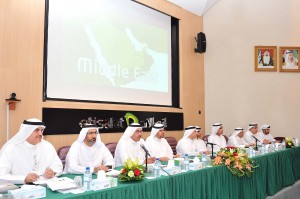 The General Assembly of Emirates Telecommunication Corporation – Etisalat – today approved the recommendation of the board of directors to distribute dividends at 60 fils per share par value for the fiscal year 2011.
The audited and approved consolidated financial results for 2011 for Etisalat show a growth in subscriber numbers by 23 percent reaching 167 million subscribers in 17 markets across the Middle East, Africa and Asia in which Etisalat operates. The corporation also witnessed one percent growth in revenues to AED32.2 billion and profits of AED11.6 billion before 50 percent federal royalty.
The General Assembly has elected 4 new members from the private sector as follows:- H.E Khalaf bin Ahmed Al Otaiba, H.E Sheikh Ahmed Mohammed bin Sultan Srour Al Dhaheri, Mr. Abdul Munim bin Eisa bin Nassir Al Serkal and Mr. Mana Mohammed Saeed Al Mulla.
Mohammed Hassan Omran, Etisalat chairman, commented, "On behalf of Etisalat's Board, I would like to thank the leadership of the UAE and the UAE government for their ongoing support in the development of the ICT sector as a major accelerator of social and economic development.
"Etisalat investments in national broadband network infrastructure have spurred combined revenues growing by 20% in data and Internet segments reaching AED 8 billion contributing to 34% of total UAE revenue. "These results support our long term investment strategy of diversifying revenues and driving greater efficiencies from our international operations, while enhancing network capacity for the increasing demand for data usage."
Excluding the impact of the impairment, operating profits before federal royalty remained robust at 42 percent and the group maintained a strong cash balance of AED 3.3 billion to reaffirm its investment grade credit ratings.
Reflecting on the 2011 results Omran commented, "Etisalat has continued to achieve growth in its operating revenues, and also maintained strong operating profit margins at 32 percent before federal royalty. If we set aside the drop of value in the Indian operation, we see that the corporation has maintained good profitability despite challenges that are being witnessed by business sectors across the globe and particularly in the Arab region."
Omran said that he believed there were four factors which indicated continued strong performance: investment in infrastructure, innovative products and services, cost management and positive cash position.
He said: "Our investment in next generation infrastructure both in the UAE and in our international operations means that we are ready to capitalize on rapidly increasing demands for data capacity. We will be introducing novel and relevant new services to tap into this demand and we have already seen the value and success of services such as mobile money transfers.."
The results also reflect an AED 1 billion impairment on net profits following the recent decision by the Supreme Court of India to cancel 122 licenses, including that of Indian subsidiary Etisalat DB (India), which mainly accounts for a 23 percent drop in net profit to AED 5.8 billion.
Despite competitive pressure, the corporation's investments have achieved good returns. Group chief executive officer, Ahmad Abdulkarim Julfar highlighted Etisalat's positive gain in its mobile subscriber base during the last quarter of 2011. He said this was due to a number of factors including reduced churn and increased customer loyalty, continuing efforts to revamp sales channels and a focus on the value proposition in the latest mobile offerings.
Commenting on the operations, Julfar said, "As the incumbent operator in a two player market in the UAE it is expected that we should feel competitive pressure especially in the mobile segment. However, we have retained a dominant share of revenues especially from higher ARPU customers, and strong growth in the data and internet segments which contributed 34 percent of UAE revenues."
Julfar continued, "Our AED 1.8 billion investment in infrastructure to enhance our fibre –optic network and roll-out of the LTE (Long Term Evolution '4G') network means that we are prepared to capitalize on the trend for demand in data."
"As we develop our international networks and drive greater efficiencies across the group, our overseas operations continue to perform strongly. In particular there were solid performances from Atlantique Telecom in West Africa and Etisalat Misr in Egypt, which witnessed a 40 percent growth in subscriber numbers," Julfar added.
Etisalat also reduced its capital expenditure during 2011 by 27 percent to 4.3 billion following the investment in Fibre-to-the-home in 2010. Capex in international operations was also reduced by political unrest in Egypt and the ongoing uncertainties in India which resulted in consolidated Capex representing 13.3 percent of consolidated revenues in 2011 compared to 18.5 percent in 2010.
Julfar also commented on Etisalat's efforts to reduce and control operating expenditures by initiating operational excellence and efficiency, to drive economic diversification and long term sustainability.
Last year, more than USD 1.8 billion of international remittances flowed through Etisalat's mobile money transfer service. The group's innovative services were recently recognized by global industry peers with Etisalat collecting three prestigious GSMA Global Mobile Awards for its Mobile Baby healthcare platform and its mobile commerce facility.
Commenting on these innovations Julfar said, "We have a proven successful track record of introducing practical, relevant and appropriate services to enhance the quality of life and socio-economic development of the communities we serve."
"These innovations are made possible through our investment in network infrastructure and are helping us rapidly diversify our revenues. Our strong cash position means that we have not only retained our investment grade credit rating and positive outlook from the three major credit ratings agencies, but we also have the cash in hand to further expand and invest in our operations