Etisalat Introduces New 4G LTE Q10 Gold Special Edition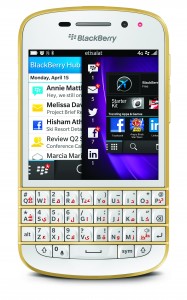 Device comes with a unique

'

7

77

'

pin for subscribers

Exchange BlackBerry

Q10 to buy 4G LTE Q10

gold special edition

at AED 2599
Etisalat UAE, one of the largest telecom operators in the Middle East and Africa today introduced the new 4G LTE Q10 Gold Special edition at AED 3799 available across Etisalat outlets in UAE.
The device is white with a gold-coloured stainless steel frame and comes with a unique pin beginning with 777. The new Blackberry comprises all other features of the Q10 mainly the 3.1 inch OLED display, qwerty keyboard and 4G LTE ready.
Etisalat subscribers can also trade in the new device to enjoy discounted prices. Users can exchange the BlackBerry Q10 to get the BlackBerry 4G LTE Q10 Gold Special Edition for AED 2599.
Devices can be exchanged at Etisalat business centers at Abu Dhabi, Deira Business Center (Dubai) and Al Manakh Business Center (Sharjah).
Khaled El Khouly, Chief Marketing Officer, Etisalat said: "Etisalat is committed to introduce new and sophisticated devices. In UAE, there is a large percentage of clientele looking forward to owning and using these limited edition products. I am confident this will meet their expectations and satisfy their requirements."
Etisalat subscribers can utilize the superior 4G LTE network, which now covers 80 per cent of the inhabited area of the country, allowing users of 4G phones to connect to the internet at speeds up to 150 Mbps.
#4G LTE #BlackBerry Q10 #Etisalat# Q10 Gold #Q10 Gold Special Edition #unique '777' pin