For every 5 minutes you talk on international calls, Etisalat gives you 5 more for free
Etisalat's prepaid and postpaid customers can now talk on international calls as long as they want with Etisalat's attractive, value-packed '5 for 5' promotion. Under the new offer launched today, for every five minutes of international calls made, customers can talk for a further five minutes on the same call, for free. Therefore, within an international call lasting 60 minutes, customers get charged for 30 minutes and benefit from receiving the balance 30 minutes for free. Moreover, they can enjoy the convenience of calling abroad at anytime of the day, throughout the week.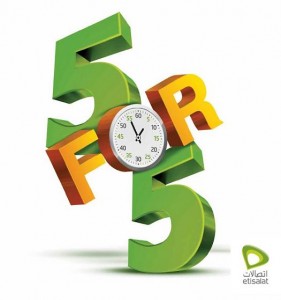 All mobile customers subscribed to Wasel prepaid, MyPlan and My BusinessPlan postpaid accounts are eligible for this free promo. They can opt in by simply sending an SMS 'F5' to 1010, or by dialing *141*1#. The '5 for 5' offer will run for a limited period. It is valid on the main recharge value of Wasel prepaid accounts, and on MyPlan and My BusinessPlan, even on the international minutes available within the bundles.
Commenting on the new offer, Motaz Hashem, Senior Vice President, Marketing, Etisalat, said; "Etisalat believes in rewarding its customers by continuously introducing innovative and value-packed offers and promotions. The new 5 for 5 promo not only adds great value on international calling, but also offers customers the special benefit of talking to their friends and families outside the UAE for much longer and at anytime of the day that suits them best."
Mobile customers who are subscribed to any of Etisalat's international plans, such as Favorite Country Plan, Super-Off Peak, Business 24×7 and Wasel Homeland, are also eligible for the promotion. They too will receive five free minutes for every five minutes of talking to any international destination, allowing them to enjoy twice the benefit. These customers will be charged as per the tariff on their selected international plan subscription.