Golden Systems Launches KINGMAX's New mSATA SSD MMP20 In The Middle East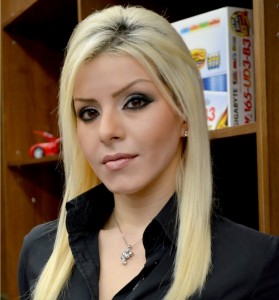 Golden Systems Middle East (GSME), a leading distributor of IT products in the Middle East, today announced the launch of the new KINGMAX mSATA SSD MMP20 in the Middle East region. The new mSATA SSD MMP20 is not only convenient for users to make their own hybrid disk (HDD+SSD) but it is also suitable for small form factor systems.
Commenting on the new product, Ms. Chantelle Tavid, Marketing Manager at Golden Systems Middle East, said "We are happy to launch the KINGMAX mSATA SSD MMP20 in the Middle East region. The new KINGMAX SSD features 'Premium Selected' quality, where all flash ICs are strictly screened and the whole SSD is 100% tested before shipping. This mSATA SSD MMP20 is compact and light and can be easily installed in notebooks or PCs."
For many notebook users, it sounds appealing to upgrade their system by SSD. However, it might compromise capacity or overspend when replacing original HDD by 2.5" SSD. KINGMAX MMP20 mSATA reconciles this dilemma. It can be directly installed inside notebook on Mini PCI-E slot, and even tiny size is capable as normal 2.5" SSD. Using mSATA SSD as a system disk and keeping original HDD allows the "Hybrid Disk" to have qualities of fast booting, high performance and large capacity.
In addition, mSATA SSD is becoming economic storage for system upgrade in mainstream PC market since more and more Z68 or Z77 motherboards support Intel ®Smart Response Technology (SRT). Intel® SRT is an Intel® Rapid Storage Technology caching feature; it allows a user to configure computer systems with an SSD used as cache memory between the hard disk and the system memory. Installing KINGMAX MMP20 mSATA SSD with HDD, a user is able to keep maximum storage capacity and SSD-like overall system performance; it is no doubt a smart and cost-efficient way to upgrade system.
KINGMAX mSATA SSD MMP20 is compact and light; compliant with JEDEC MO-300B, it is not only applicable for notebook and desktop systems, but also very suitable for small form factor and embedded systems, such as popular tablets. MMP20 adopts SATA II 3GB/s interface and equips with a powerful controller which optimizes the flash memory management to maximize system reliability and performance. The SATA interface optimizes the translation between host devices and flash, which results in the most efficient data read/write transfer, enhances boot times/ application load times and reduces power consumption.
KINGMAX MMP20 meets RoHS regulations (Restriction of hazardous substances in electronic and electrical and electronic equipment) and was certified CE and FCC. Moreover, all KINGMAX products have been 100% tested under strict quality control system to meet all requirements before shipping. The KINGMAX product warranty service ensures premium product quality and flawless customer services.
Features
High speed and economic storage for easy system upgrade.
Support Intel ® Smart Response Technology
Compliant with JEDEC MO-300B standard, suitable for notebook, desktop, small form factor system and embedded system
Light and compact size
Low power consumption.
Specification
Capacity:16GB/32GB/64GB/128GB
Interface:SATAII 3Gb/s
Dimension:50.8mm (L) x 29.85mm (W) x 4.75mm*(H) (*Maximum height)
Voltage:DC 3.3V +/-5%
Weight:7 g
Sequential Speed:
16GB    Read:  Up to 70 MB/s    Write: Up to 22 MB/s
32GB    Read:  Up to 125 MB/s   Write: Up to 40 MB/s
64GB    Read:  Up to 150 MB/s   Write: Up to 70 MB/s
128GB   Read:  Up to 150 MB/s   Write: Up to 120 MB/s