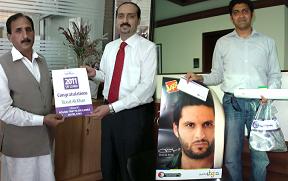 Mobilink sends cricket enthusiasts to Colombo
As the nation is gripped in cricket frenzy, Mobilink is sharing the excitement by rewarding cricket enthusiasts with a FREE trip to the World Cup venue – Colombo.
These days, when the Pakistanis are glued to their TV screens to enjoy the decisive phase of the World Cup-2011, Mobilink has provided this fantastic opportunity to 30 customers, to go and watch thrilling performances out there in Colombo.
Names of 25 lucky winners have been announced under the "Jazz SMS Cricket Quiz", whereas the other 5 customers were rewarded through the "Indigo World Cup Promotion" Competition. These lucky winners participated from various cities and towns of Pakistan, including; Karachi, Lahore, Islamabad, Sahiwal, Sehwan, Swabi, Okara, Nowshera, Multan, Gujranwala, Peshawar, Charsadda and Jhelum.
The winners are overjoyed at this opportunity, describing it as a life altering experience. One winner shared that this would be the first time he is traveling abroad.
Mobilink has also created several other opportunities for cricket enthusiasts to win fascinating prizes as the tournament moves into its decisive phase. During this tournament, Mobilink "Jazba" package is offering numerous valuable prizes, ranging from discounted tariffs, latest smart-Phones, memorabilia, etc.
With the inspirational "Rise of Jazba" song and video, IVR-based Live commentary, SMS score-updates, SMS Cricket Alerts and other exciting Value-Added services, Mobilink has created a passionate Cricketing experience.
Tags: Mobilink World Cup cricket Colombo trip winners, Mobilink Jazz SMS Cricket Quiz, Mobilink Indigo World Cup Promotion, Mobilink World Cup Cricket Promotions, Mobilink IVR Live Cricket Commentary, Mobilink Jazba Cricket.