Nawras 4G winner sees Ahmad Al Harthy achieve historic win at Silverstone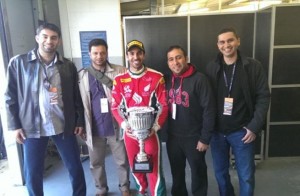 Nawras brand ambassador and Omani racer Ahmad Al Harthy, recently made history in England by being the first Arab to reach the championship podium of the Blanc pain Endurance Series at the Silverstone race circuit. Watching closely from the stands as all the exciting action unfolded was Nawras 4G customer Hatim Khamis Al-Arafatis.  After winning the trip to be at the Grand Prix Circuit, he was able to be trackside to witness this great sporting victory.
Al-Harthy is accustomed to achieving notable firsts in his career, such as becoming the first Omani to win a title in the Porsche Carrera Cup GB Championship with his 2012 Pro-Am 1 success. The 31-year-old has now achieved his first European endurance racing win during only his second Blanc pain outing.
After the exciting event, Ahmad Al Harthy said, "It was great to have been able to share our win with the Nawras competition winners who flew to the UK for my race."
Nawras winner Al-Arafatis won the exciting all-expenses paid trip after choosing one of the customer friendly company's new 4G mobile broadband plans. His prize from Nawras was a highly memorable trip to the race circuit in England together with three of his friends as well as the added bonus of watching Al-Harthy win.
"This was an incredible win for Ahmad Al Harthy," said Nawras Chief Executive Officer, Ross Cormack. "We are all thrilled for him and extremely proud of our superfast brand ambassador.  Ahmad is a great role model because he is a dedicated team player, determined to succeed and a dynamic driver. His superfast speed is mirrored by the superfast 4G service we are now offering in the Muscat Governorate."
Al Harthy will be back in action at the Avon Tyres British GT Championship at Snetterton 300 Circuit in the UK on 15 and 16 June 2013.