Nawras Goodwill Journey 8 makes its first caring stop at Nizwa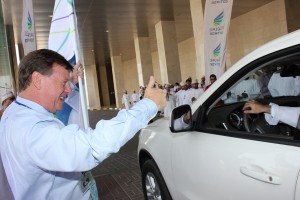 Volunteers with Nawras Goodwill Journey 8 left Muscat on Saturday to begin to touch hundreds of lives across the Sultanate during the Holy Month of Ramadhan with the first caring stop at Nizwa. The 10-day journey will be spreading messages of compassion while visiting a number of charitable organisations in villages and towns across Oman.  Goodwill Journey members will be distributing much needed items and showing support and gratitude to those giving and receiving help.
There was an air of excitement at Nizwa Club in Barkat al Mawz, as the Al Noor Association for the Blind welcomed the Nawras team in the traditional way. Under the patronage of Chief Guest, HE Hamdan Bin Nasser Al-Rumaidhi, Nizwa Representative of Shura Council, the soul stirring music, traditional performances and warm smiles made it an experience to treasure. The programme started with a Quran recital and this was followed by a welcome song. Dedicating the song to the blind, the group of boys then mesmerised the audience with an ode to the stunning beauty of Oman.
During the official launch of the Goodwill Journey, Head of Communications and Public Relations for Al Noor Association for the Blind, Saud Bin Salem Bin Shikhan Al Azri, said, "It's really a great pleasure to have the team from Nawras here with us. We can't start to describe how much we have benefitted from their kind gesture. This should be more of an inspiration for others to lend a helping hand for those who are in need. We would really like to thank Nawras from the bottom of our hearts."
A video was shown to recap the magical moments of the 7th Goodwill Journey, which took place in 2011. "This is not our first association with Al Noor and it's always touching to experience such warmth from our brothers in Nizwa. It's our pleasure to be here and I hope that we can continue to share this journey with you in coming years," said Khalid Bin Ali Al Zadjali, Protocol and Events Manager and leader of the Nawras Goodwill Journey.
The journey is also aiming to support and foster employment for women in Oman, as Nawras plans to offer giveaways like IT equipment, communication devices and sewing machines.
During the second day of the Goodwill Journey, the team visited the Omani Women's Association in Dhank. A group of more than 100 members offer support and training for a number of women and children in Dhank throughout the year. While the volunteers involved themselves in various activities like drawing, painting and games, the Head of the Association, Sabha Rashid Al Marbooy, extended her gratitude for the timely support. "We are glad that the company responded quickly to our call for help. We need such support as there are many less fortunate families in this region for who gestures like this mean a great deal. I take this opportunity to thank you all for the support."
The first leg of the Nawras Goodwill Journey will cover including the Dhakhilya Governorate, Al Dhahirah Governorate, Al Buraimi, Al Mussanah, and Al Suwaiq and Al Rustaq.
The Goodwill Journey that first began in 2005 is a heartfelt effort to extend help to those who need it most in towns and villages all over Oman and it is now an integral part of the company. Over the years it has transformed into the hallmark initiative it is today. Nawras Goodwill Journey continues to impact lives of hundreds of people living in all regions of Oman who are most in need of this support.

During the flagging off ceremony conducted below the Nawras Campus at Muscat Grand Mall, CEO of Nawras, Ross Cormack said, "The Nawras Goodwill Journey has become the cornerstone of the company's corporate social responsibility programme, giving us the opportunity to get closer to the wider Omani community.
"The caring nature of the Nawras family is demonstrated year after year as the Nawras Goodwill Journey leaves a lasting impression, reaches out to as many people as possible and helps spread happiness to the various organisations we support and the people they help."