Nawras promotes nine talented ladies to managerial positions in stores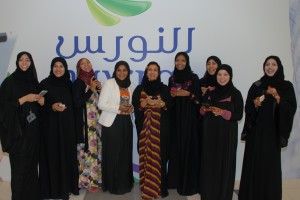 Nawras, Oman's customer friendly communications provider, is delighted to announce that its Al Khoudh and Seeb Stores are now managed by female family members, marking another 'first' for the company. This is part of a series of recent promotions for ladies to Store Manager and Assistant Manager positions within the Nawras family.  Four of these ladies have been on the front line, looking after the dynamic communications company's customers since the pre-launch phase in 2004.
Nawras encourages professional development and rewards the best and most experienced talented employees with career progression. The recent changes reflect this and show the commitment Nawras has placed on developing the role of women in line with His Majesty's vision to empower women and enhance their participation in business. In total there are now more than 60 female Sales Champions in Nawras stores across the Sultanate of Oman which includes the two Store Managers at Al Khoudh and Seeb, in addition to six Assistant Managers at stores in Muscat, Salalah, Sohar and Sur.
To provide even better service for female customers, the Nawras Al Khodh Store has a fully dedicated service counter for ladies and the same will soon be introduced at the new flagship store at Muscat Grand Mall as well as in Salalah.
Ross Cormack, Chief Executive Officer of Nawras, said, "We are proud to be an equal opportunity employer and firmly believe that our people are the driving force of the company.  The contribution of ladies is highly valued at Nawras and we ensure that we provide enriching career advancement opportunities based on talent and dedication to serving customers. It is great to see our people grow as the company itself grows and to know that customers are helped by those who live our values of being caring, excellent and pleasingly different."
Zahra Al Busaidi, Store Manager at Nawras Seeb Souq Store said, "I am so happy with my recent promotion and feel fortunate to be part of an organisation that truly cares for its people and recognises hard work and dedication. Every day is exciting at Nawras and I am looking forward to handling my new responsibilities to give our customers an even better experience with our pleasingly different style of service."
Nawras stores introduced a totally new retail experience for customers in Oman.  From the time the first store opened in 2005, paying a bill, buying recharge or getting help with any aspect of communications became a pleasure rather than simply a necessity. Customers can try the latest handsets, test services and talk to friendly professionals about any aspect of the Nawras service at convenient locations all over the country.
A member of the Qtel Group, the company is dedicated to enriching the daily lives of people in Oman through better communications and becoming the employer of choice in the country.