Nawras trains next generation of project managers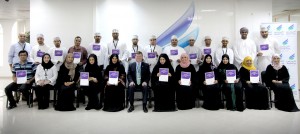 Nawras, Oman's customer friendly communications provider, has successfully awarded 28 family members a certified 'Project Manager' qualification. The week long course was developed by ILX Group – the leading global provider of PRINCE2 learning, specialising in technology led and bespoke corporate learning solutions – and delivered by a team of trainers from Nawras.
During the course, Nawras family members learned vital skills including stakeholder management, risk management and quality management to assist them in their career progression and further enrich the customer experience. As the dynamic communications company turbocharges its network, Nawras is also ensuring that its talented and dedicated family members will be more than ready to meet the evolving needs of customers.
Faisal Al Bakri, Nawras Department Head of CEO office, said, "Nawras is constantly investing in people, providing opportunities to progress and learn new skills so we can continue to offer pleasingly different services and delight our customers. By offering innovative training courses, Nawras continues to show its commitment to nurturing local talent at the same time as the company is continuing to transform the communications landscape in Oman."
Prior to the course, a series of 'Train the Trainer' sessions were held to prepare Nawras trainers to effectively communicate and transfer the knowledge of these important project management skills. The course is still underway and training courses will be held every week until the start of Ramadhan and will resume at the conclusion of the Holy Month. Training sessions will be rolled out to the majority of the Nawras family.
"This was a highly interactive course which gave me the opportunity to learn new project management techniques in a fun, yet practical way," said one of the first participants, Content Specialist, Marwa Salim Al-Farsi.  "I know I will now be able to handle projects in a much smoother and more productive way."
Nawras, a Qtel Group company, puts people at the centre of everything it does and the continuous development of its family members helps Nawras remain customer-oriented and highly competitive. By fostering talent, the skills learned can be translated to meet the ever changing needs of customers as the company is enriching the daily lives of people in Oman through excellent communications.