Palestinian hacker Khalil to be rewarded by online community instead of Facebook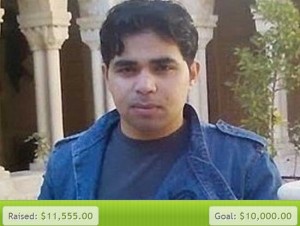 The Palestinian hacker/researcher, Khalil Shreateh, who had discovered vulnerability in Facebook security procedures last week that allow anyone to post anything on a timeline of non-friend is expected to receive USD 11,000 as a reward, NOT from Facebook, but it will come from an online GoFundMe Campaign that started after Facebook refused to reward the bug hunter.
The campaign was started by Marc Maiffret, Chief Technology Officer of security firm BeyondTrust.
The target was to raise USD 10,000 but so far USD 11,555 have been donated by community people.
Marc acknowledges on his site, "thank you so much to everyone who helped make this happen for Khalil. I am leaving this active while I work with gofundme to transfer the funds to Khalil, whom I am now in contact with. I hope this has raised awareness of the importance of independent researchers. I equally hope it has reminded other researchers that while working with technology companies can sometimes be frustrating, we can never forget the greater goal; to help the Internet community at large, just as that community has helped donate over ten thousand dollars to Khalil within a day.
All proceeds raised from this fund will be sent to Khalil Shreateh to help support future security research".
Khalil after discovering the bug used Facebook's whitehat disclosure program to update the social networking giant and claim the bounty but Facebook management kept ignoring him when finally Khalil had to prove his point by breaking into Mark Zuckerberg's Timeline but instead of acknowledging the bug Facebook spokesperson said, Khalil violated the policy by hacking into a live account. He should have used a test account for proving his point.
As a reward, Facebook deactivated Khalil's account but later it was restored.
#Facebook #Facebook's whitehat #Mark Zuckerberg #online community #Palestinian hacker Khalil