"CEO of the Year Award- Telecom 2013" goes to Etisalat Group CEO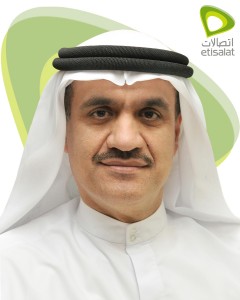 The prestigious "CEO of the Year Award – Telecom " went this year to Ahmad Abdul karim Julfar, Group Chief Executive Officer of Etisalat Group.
This year's winners were handpicked by a well-reputed specialist panel of 19 judges, who thoroughly evaluated some 982 entries, out of which they shortlisted 50 candidates. And following a closed voting, 16 winners were announced yesterday in the 16 categories.
CEO of the Year Award is presented every year by CEO Middle East. The CEO Awards recognize and reward outstanding success, innovation and ethics across Middle Eastern businesses.
The award honor CEO's through the appreciation of innovative business, and business excellence in the telecom sector. It also acknowledges publicly the vital contribution made by individuals and their companies to the vibrancy of telecom business across the region.
Commenting on the occasion, Walid  Akawi, ITP CEO, said: "Mr. Julfar is an inspirational business leader. He leads one of the most successful and pioneering telecom groups in the entire region which now has a global footprint in 15 countries spanning over the Middle East, Africa and Asia. The wisdom, leadership and experience of Mr. Julfar certainly contributed to all that success of Etisalat Group, and we are extremely delighted for him to be chosen the CEO of the Year in the Telecom category this year."
Ahmed bin Ali, Senior Vice President, Corporate Communications, Etisalat Group, received the award on Julfar's behalf from Akram Awad, ITP Managing Director, at a special gala dinner held last Wednesday at Jumeriah Emirates Towers, Dubai.
About Etisalat Group CEO, Ahmad Abdulkarim Julfar
Mr. Julfar was appointed Group CEO at Etisalat Group in July 2011, after serving as Group Chief Operating Officer between 2006 and 2011.
His role oversees the 15 markets in which the company operates, providing a new leadership role to enable Etisalat prepare for the next stage of its evolution within the UAE telecoms market and its further transition into the global telecoms environment.
As Group CEO, Ahmad Abdulkarim Julfar's role includes the delivery of the Group's commercial, technological, financial, business development and overall organisational goals as Etisalat strives to become one of the world's top telecommunications companies.
Ahmad Abdulkarim Julfar began his career at Etisalat in 1986 and served later as Manager of Customer Service, General Manager of E-Company and more recently as the General Manager, Dubai Region in 2005.
In 2004, he became one of the first graduates of the Sheikh Mohammed Bin Rashid Al Maktoum Establishment for Young Business Leaders. Julfar holds two degrees in Civil Engineering and Computer Science from the Gonzaga University in Washington, USA.
#Ahmad Abdul karim Julfar# CEO of the Year Award# Group Chief Executive Officer of Etisalat Group# Telecom 2013