4th Cloud & Virtualisation Africa Summit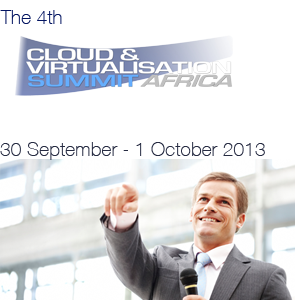 Final preparations for the 4th Annual Cloud & Virtualisation Africa Summit
Industry experts from leading organisations will be coming together on the 30th of September and 1st of October 2013 for the 4th Annual Cloud & Virtualisation Africa Summit. The 2 day summit will feature industry thought leaders such as: Len de Villiers, Group CIO of Bayport Financial Services and Darryl Thwaites, CIO of Tiger Brands who will address topical industry challenges.
This week is the final opportunity to come on board for this event that is taking place on the 30th of September and 1st of October 2013 at the Maslow Hotel in Sandton.
Now in its 4th year, the 2013 C&V Summit is designed for senior decision makers and IT execs to discover the most effective level of cloud computing engagement for their needs and means of deploying innovative cloud technologies alongside existing hardware and software.
Industry provider, KeyedIn Projects will share guarded industry stats about the state of today's Project Management Office (PMO). KeyedIn Projects will showcase the opportunities and pitfalls presented by today's PMO in their workshop: The disturbing reality of today's PMO – How to avoid the consequences of an ineffective PPM/PMO strategy.
The interactive format of the summit includes a cutting edge agenda featuring: expert-led interactive keynote sessions presented by internationally renowned guests; strategic workshop sessions run by innovative industry providers; networking and interactive discussion sessions and an invaluable industry provider showcase area.
#Africa Summit #Cloud Summit #industry challenges #Virtualisation Summit