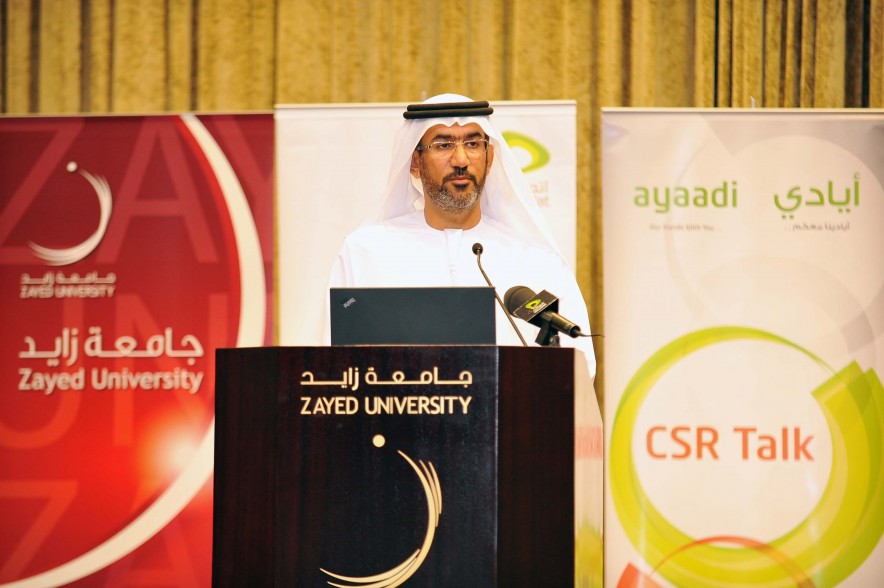 Ayaadi brings together youth and business for "EnviroCare" forum at Zayed University
Continuing its CSR Talk series aimed at raising awareness on key issues within the UAE community, Etisalat's Corporate Social Responsibility (CSR) initiative Ayaadi today organized a panel discussion titled "EnviroCare." The forum held at the Zayed University Campus in Dubai was aimed at raising awareness of environmentally-friendly practices at the individual and organizational level besides highlighting green initiatives and best business practices in the field.
"EnviroCare" was the third edition in Ayaadi's CSR Talk series, aimed at generating public dialogue on issues of interest to the entire community. Held in a panel discussion format, the conclusions from the forum are used for campaigns supporting the causes discussed on the forum. The "EnviroCare" forum brought together leading experts and specialists in the area of environmental management and sustainable business practices. The eminent panel of speakers included Ahmed Detta, Managing Partner Middle East, Industry RE Sustainability, a leading sustainability management consultancy in the Middle East; Annelies Hodge, CSR Manager at the Dubai Chamber of Commerce and Industry; Ibrahim Al-Zu'bi, the event's keynote speaker Head of CSR for Majid Al Futtaim Properties. Other prominent panelists included Nicolas Delaunay, Director, Business Development & Marketing at EWS-WWF; Sabrin Rahman, Head of Corporate Sustainability for the UAE at HSBC Bank Middle East; and Stuart Fleming, Founding Partner and CEO of EnviroServe and leading environmental thought leader within the UAE.
The panelists used the forum to discuss key issues regarding environmental challenges in the UAE and also suggested solutions that could be adopted by members of the community and those in business to mitigate the impact of environmental damage arising from day-to-day human and industrial activity.
Dr. Sulaiman Al Jassim Vice President of Zayed University said, "EnvoCare" Forum highlights the concerns of educational institutes and corporate organizations in raising environmental awareness to the new generations. There has been great progress in the understanding of environmental concepts among students and expert faculty. Also, the views has evolved in terms of dealing with the environment and its diverse elements.
Al Jassim added, "The forum is a new addition to attract national and regional parties to collaborate to achieve one goal which is to reduce "human impact on the environment" and "wrong practices toward the environment." He also, stressed on the importance of working together to reduce the environmental impacts.
"The EnviroCare CSR Talk forum was conceived in response to the growing environmental consciousness in the UAE," said Amal Alkoos, Ayaadi's Director. "Already, the UAE is home to some of the largest sustainability initiatives in the world, including Masdar and the World Future Energy Forum. This has only been possible due to the pioneering approach of the government towards environmental management and sustainability. Yet, there remains much under-awareness in several sections of the community, especially youth regarding the importance of these issues and the contribution that each member of the community can make. With this forum, I believe we have been able to share some great ideas for integrating environmentally-friendly practices into our daily lives and appreciate national and global efforts for greater environmental sustainability."