Batelco and Gulf Air Sign MoU to Deliver Greater Benefits to their Customers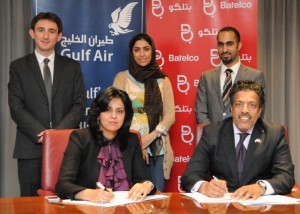 Batelco, Bahrain's leading integrated communications services provider and Gulf Air, the Kingdom's national airline, have signed a Memorandum of Understanding (MoU) that will deliver great benefits to customers of both Bahraini companies. The historic signing agreement between two of Bahrain's leading organisations took place at Gulf Air's Headquarters in Muharraq last week.
Batelco General Manager Consumer Division Muna Al Hashemi and Gulf Air Senior Manager Sales Bahrain & Saudi Arabia Yahya Ali Buali signed the agreement on behalf of their respective companies in the presence of officials from both organisations.
The MoU is the first step of a major collaboration that will see both Batelco and Gulf Air extend benefits to their respective customers to enhance their telecommunications and travel experience.
"Over the course of 2012 a number of initiatives, that have been designed to surprise and delight both ours and Gulf Air's customers, will be announced," said Mrs. Al Hashemi following the signing ceremony.
"The marketing teams from both our organisations have put in tremendous efforts to come up with some very creative campaigns. We are very much looking forward to developing this relationship with Gulf Air and to adding extra value for our respective customers," she added.
Mr. Buali said that both organisations have been working together for some time to design and develop benefits that will really make a difference for the customers of Gulf Air and Batelco.
"We are delighted that we now have established plans in place and we look forward to working closely with our fellow Bahraini company Batelco in rolling out a comprehensive raft of value added benefits starting in the near future."