Batelco and Omantel Sign Partnership Agreement
End-to-end services to Bahrain and Oman-based businesses for secure inter-office Connectivity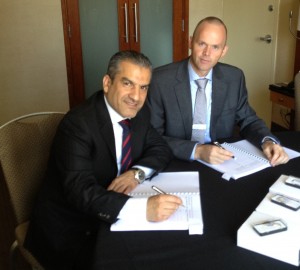 Batelco, Bahrain's leading integrated communications company is further demonstrating its position as a provider of cutting-edge services by launching MPLS IP VPN interconnectivity in partnership with Omantel, the number one service provider of advanced communication solutions in Oman.
Batelco's General Manager Enterprise and Government Division Adel Daylami and Omantel Senior Manager Capacity & Submarine at Wholesale Business Unit Johannes Boersma signed the partnership agreement on the sidelines of the International Telecoms Week (ITW) held in Chicago, US, on May 14-16.
Building on existing agreements, this partnership will allow bi-lateral Data IP Services to be sold between Bahrain and Oman, as well as providing one-stop-shop transit services to Batelco's and Omantel's carrier partners, enabling both parties to extend corporate VPN solutions between their respective markets. This agreement will provide state-of-the-art, end-to-end MPLS VPN services to Bahrain and Oman-based businesses that wish to establish secure inter-office connectivity between both locations. Through this agreement, Batelco and Omantel will further strengthen its offering to carrier and corporate customers in all GCC countries, Middle East as well as anywhere around the globe.
Mr. Daylami said that this strategic bi-lateral understanding is an important addition to Batelco's portfolio of OSS agreements, "Links for Batelco's international customers and partners can now be extended to all GCC countries through Batelco's Global IP VPN reliable, state of the art network."
"Accordingly, this comes in line with Batelco's International Carrier Relations (ICR) strategy via its presence in all GCC countries as well as other key destinations, through reliable MPLS, Ethernet and IPLC networks in order to expand the company's IP Data Services reach to all major destinations," added Mr. Daylami.
This agreement complements Batelco's range of global connectivity services such as Global IP-VPN, Global Ethernet, IPLC, Global Satellite services and a Global Datacenter that not only enhances efficiency by offering seamless, secure and dedicated interconnectivity but also the reliable support of a professional team working 24×7 in Batelco's sophisticated NOC's (Network Operation Centre's).
Mr. Boersma said "Omantel provides a comprehensive range of managed services to companies and carriers, and this new agreement with Batelco enables Omantel to increase the depth of its MPLS VPN portfolio, adding additional regional capabilities. The company is proud to work with Batelco, which is a long-term partner of Omantel."