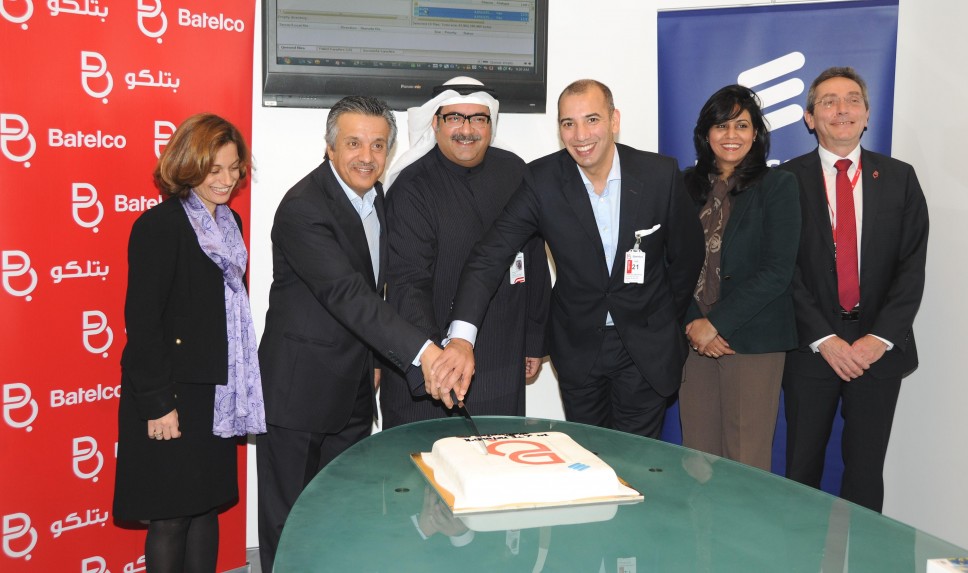 Batelco Holds Successful Trial of LTE at Company Headquarters
Batelco, the Kingdom's leading integrated communications services provider and Ericsson, the world leading provider of telecoms technology held a successful trial of LTE (Long Term Evolution) mobile technology at Batelco's Hamala Headquarters on December 15th. LTE, commonly referred to as 4G enables delivery of super fast data speeds.
Batelco embarked on its BD14.5 million MNE (Mobile Network Expansion) project in collaboration with Ericsson in June 2010, to develop a superior network performance for Batelco and ensure readiness for LTE. Such financial commitment ensures that Bahrain's infrastructure for wireless is the 'best in class' and measures up to the top 10 markets in the world. Delivery of LTE is a crucial enabler of the Business Friendly Bahrain strategy, established by the Economic Development Board, in line with the Kingdom's 2030 vision.
Batelco Group Chief Executive Shaikh Mohamed Bin Isa Al Khalifa, Chief Executive Bahrain Rashid Abdulla and a number of Batelco General
Managers and Senior Managers were present at the LTE Trial along with Ericsson President & Head of GCC Countries Ray Hassan, Ericsson Key Account Manager Christiane Kamar and a number of Ericsson technical representatives.
Batelco Group Chief Executive Shaikh Mohamed Bin Isa Al Khalifa thanked Ericsson for their invaluable contribution to Batelco in carrying out the successful LTE trial.
"Ericsson has been a key partner in providing Batelco with innovative telecommunications solutions over three decades and today their contribution to our successful delivery is just as invaluable as it has always been," he said.
"Ericsson's technical expertise and their experience facilitate the implantation of the right kind of processes to complete complex projects in an efficient manner," he added.
Batelco Chief Executive Bahrain Rashid Abdulla explained that Batelco's major objective was to enhance, upgrade and expand their mobile voice and internet network to tackle a number of needs such as providing or enhancing coverage and quality of service in newly developed or remote areas.
"The successful trial of LTE will address the ever growing future demand of broadband over the mobile network and will meet the ever increasing expectation of our customers for higher speeds and world-class communications services."
"Batelco is adamant to contribute in maintaining Bahrain's leadership in providing such advanced technology which will positively impact on its economic development," he added.
Ericsson President & Head of GCC Countries Ray Hassan said that they are proud to have been delivering innovative telecommunications to Batelco for many years.
"This is a very important milestone in Batelco's plan to deliver and support mobile broadband developments. We are looking forward to being part of this journey and see this successful trial as a starting point for further partnerships with Batelco to deliver an end-to-end IP solution for mobile broadband," he said.
"Working alongside skilled Batelco personnel, with the cooperation of Batelco's executive management has always been the key to our strong partnership that has grown into a real success story that we are proud of."
"This announcement strengthens our long standing relationship with Batelco and highlights the confidence and trust Batelco has in our leadership in LTE technology," he added.
With the provision of 4G, Batelco mobile users will experience faster access to the internet. The networks will also be capable of handling the much greater throughput of data in real time that's required to support such services as mobile HD video streaming and conferencing, web-based applications and services, and the rapid transfer of large files. LTE will have a download data transfer rate of up to 10 times faster that that of 3G.
LTE will provide Batelco Mobile Users with significant benefits that extend beyond traditional day to day wireless communications. Consumers will benefit from access to a wide range of new and rich innovative multimedia applications. It also opens the doors for innovative applications, products, services, and solutions targeted not only to today's handheld mobile devices, but also to other non-traditional devices.
Caption: Cutting the cake to celebrate the successful LTE Trial at Batelco. From right to left, Batelco Chief Technical Officer John Ford, Batelco General Manager Consumer Division Muna Al Hashimi, Ericsson President & Head of GCC Countries Ray Hassan, Batelco Group Chief Executive Shaikh Mohamed Bin Isa Al Khalifa, Batelco Chief Executive Bahrain Rashid Abdulla and Ericsson Key Account Manager Christiane Kamar