Batelco wins CommsMEA Annual Telecoms Technology Investment of the Year Award
The CommsMEA Awards set out to celebrate and pay tribute to the telecoms industry professionals and operators that have shown outstanding performance and results in key market segments. The prestigious Telecommunications Technology Investment award recognises the operator that has not only invested a substantial sum in technology but also ensured that its investment has delivered a return for its customers.
Batelco Chief Executive Bahrain Rashid Abdulla who attended the event to collect the award for Batelco said that Batelco was delighted to be recognised for their efforts in delivering up- to-date services for their customers.
"We are delighted to have achieved this accolade in winning this year's Telecoms Technology Investment of the Year award."
"Batelco has invested heavily in its networks and development of world class products and services to ensure that residents of the Kingdom of Bahrain have access to the latest communications tools," he added.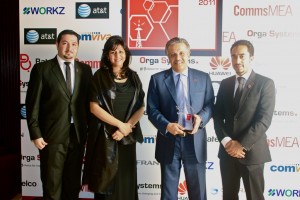 The Awards were judged by an independent panel of regional telecommunications experts and the winners were rewarded at an elaborate Gala dinner attended by senior executives and personalities from the Middle East and African telecommunications industry and other VIPs.

Batelco, Bahrain's leading Telecommunications Company was presented with the Telecoms Technology Investment of the Year award for the MENA region at the annual CommsMEA Awards held at the Jumeirah Emirates Towers Hotel, Dubai on Tuesday 29th November.