du's first Cyber Security Conference a success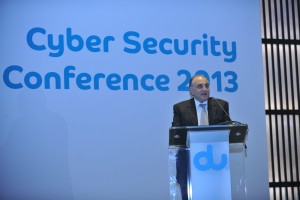 Experts in the field of information security from the government, security and financial sectors share their experiences and discuss the latest developments in the field
du's first Cyber Security Conference, held recently in Dubai, proved a huge success with industry experts facilitating dialogue and discussing pertinent issues and trends within the online industry. The event was opened by Osman Sultan, CEO, du, followed by a keynote address from Marc Maiffret, Chief Technology Officer, BeyondTrust.
Speaking of the significance of the event, Marwan Abdulla Bin Dalmook, Senior Vice President – Technology Security and Risk Management,  du, said: "It is in every organisation's best interests to have information security integrated into the very fabric of its business mission, in order to provide full protection of its employees' data. This is especially important in an increasingly mobile world, in which 1.2 billion workers worldwide are classed as mobile. Mobile devices are the second highest security concern after application vulnerabilities, and today's event has been successful in the discussion of ways to counter these threats."
The day-long event hosted several speakers throughout the day, including Ahmad Al Mulla, Vice President, Dubai Aluminium (DUBAL); Saeed Belhoul, Director e-Government Operations, Telecommunications Regulatory Authority (TRA); Samir Omar, MEA Business Development Manager, Verizon; Bashar Bashaireh, Regional Director, Fortinet Middle East, and Ian Evans, Managing Director, EMEA, AirWatch. A panel discussion on Cloud Security Challenges for Governments was also held, with representatives from du, Oman Data Park, and ITS Square.
The du Cyber Security Conference will be an annual event, promoting and sharing information about the latest developments in cyber security, including information security risks, threats, vulnerabilities and safeguards.
#Cyber Security Conference# du# Dubai# Osman Sultan CEO