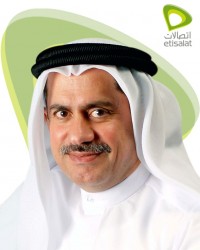 Etisalat's Revenues Continue to Grow, Records AED 8 Billion in Consolidated Revenues in first Quarter of 2011
Etisalat has announced its group financial results for the first quarter of 2011. The results reveal group revenues of AED 8.04 billion recording a growth of AED169 million in the quarter when compared to the same period in the prior year where revenues amounted to AED 7.87 billion.
The net profits for the quarter were AED1.8 billion resulting in an earnings per share of AED 0.23. The Group invested in AED 1.11 billion of capital expenditure during the quarter and its net assets were AED 41.3 billion at the end of March 2011.
"The financial results recorded during the first quarter of 2011 indicate the Corporation's continuous achievements in revenue growth, reflecting our strategy to become one of the largest telecommunications corporations globally, in addition to being the biggest telco organisation in the Arab world," said Mohammed Omran, Chairman, Etisalat, while commenting on these results.
"Etisalat heavily invests in the modernizing and development of infrastructure in the UAE, as the total cost of building the fibre optic network has reached AED 6 billion, in addition to investments in a 4G network. These efforts have been reflected directly in the Global Information Technology Report 2011, issued by the World Economic Forum, which put the UAE ranked first in the region and 24th globally in the IT and telecommunications sector, outperforming countries including China, Ireland and Spain. These costs have constituted extrodinary pressure on net profits in previous periods but they are considered a long-term investment in the country's economy, while building the latest networks to a global level," he added.
Omran praised the financial results achieved by the international investments that have started to constitute a main financial source to the corporation that gradually offsets the natural decline of revenues due to the current high saturation in the local market in addition to the increased competition that has reached to high levels.
With regards to international investments, Omran started that the organization's strong financial position enables Etisalat to continue searching for potential investment opportunities, stressing on continuing to monitor and research potential opportunities in the Middle East, Asia and Africa, considering these areas with a high population density and waiting for new growth in the telecommunications sector.
"With increased competition in the market, Etisalat continues to respond to customer demands by launching promotions and offers which have been well received by customers, and this has been reflected positively on the Corporation's revenues and number of subscribers," said  Nasser Bin Obood, Acting CEO, Etisalat.
Nasser also mentioned that the next period will witness the launch of many major services that might have a huge impact on telecommunications sector like 4G (Long Term Evolution) that will provide subscribers with an entirely new experience in the field of mobile broadband.