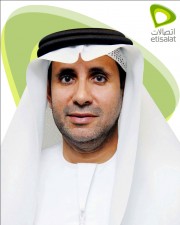 Etisalat brings UTV Bindass and UTV Movies International to the UAE
Etisalat, Middle East's leading telecom operator and TV services provider and UTV, South Asia's leading Media and Entertainment Brand, jointly announced the launch of UTV Bindass (channel # 678) and UTV Movies (channel # 665) for Etisalat's e-Life and e-vision customers.
Etisalat is the first operator in the region to offer– UTV Bindass and UTV Movies to its e-Life and e-vision customers in the UAE, as a part of Asian Choice Basic package and A La Carte option respectively.
UTV Bindass is India's leading Youth channel with a classic mix of path-breaking reality content as well as Bollywood music. UTV Movies on the other hand, has the inherent advantage of being the only Hindi movie channel coming from the country's largest movie studio. The channel has the distinct advantage of possessing a young and fresh library of Bollywood film content which is in demand across the entire Middle East region. In the Middle East UGBL has appointed Media stream FZE a key Dubai based Media & marketing firm specialized in Television broadcast , TV channel representation and distribution to develop and deliver its channels over various conventional as well as New Media distribution channels.
"At Etisalat, we always endeavor to provide the most refreshing and relevant content to our e-Life and e-vision customers. The addition of these two new channels will further enrich our bouquet of services, while offering unmatched entertainment to our viewers," commented Mr. Humaid Rashid Sahoo, Chief Executive Officer, e-vision.
"Etisalat e-Life customers can view the channels by selecting the existing Asian Choice Basic Package. e-vision customers can subscribe to the new channels by calling 101", Sahoo added.
Commenting on expansion in the Middle East market, Mr. M. K. Anand, Chief Executive Officer, Broadcasting – UTV said, "The Middle East is a very important and challenging market for Indian television and we are pleased to join hands with Etisalat for distributing our content to the prominent and significant South Asian Diaspora resident in the United Arab Emirates, which is one of the key countries having the largest percentage of Indian expatriates in the region. Going forward we plan to enhance our presence across the entire MENA region by customizing our offering as well as developing interactive programming to meet the viewing preferences of the region and engage our audience on a long term basis."