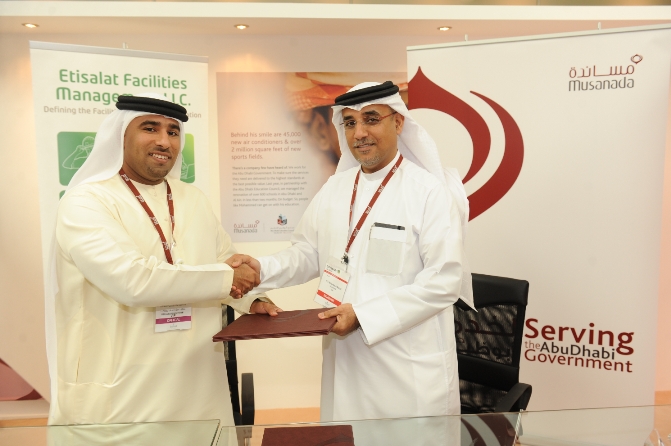 Etisalat Facilities Management Awarded AED 108 million Maintenance and Facilities Management contract
Etisalat Facilities Management has been recently awarded a contract worth AED 108 million from Musanada to service 121 government buildings across Abu Dhabi, the Western Region and Al Ain.
The contract, spanning three years, will cover all aspects of maintenance relating to mechanical, electrical and plumbing (MEP). Musanada will manage the contract to ensure the agreed service levels and KPIs are met, supporting Abu Dhabi government's goal to become one of the top five governments in the world.
Mustafa Al Ateek, General Manager of Etisalat Facilities Management stated: "Etisalat Facilities Management is proud to be selected as a facilities management partner to Musanada for this project. This project covers more than 120 facilities, which are spread over a huge geographical area starting from Abu Dhabi to Eastern Region and reaching the Western Region."
"Our Computer Maintenance Management Software and PDA solution will ensure that every aspect of work will be carried out within the scope of work and that we are meeting our KPI's. We are now completing the mobilization of the project and we believe that both Musanada and Etisalat FM have demonstrated a partnership approach in the true business sense," he concluded.
Musanada's CEO, H.E. Mohamed Khalifa Al Fahed Al Mehairi stated: "Musanada has been entrusted by the Government of Abu Dhabi to ensure that its various entities will be provided with the world class services that will enable them to constantly provide excellence to the people of Abu Dhabi. Musanada will continue to work closely with the private sector in order to ensure that international standards are being enforced across the market ensuring Abu Dhabi's Vision 2030 full realisation."
"Our decision to award this contract to Etisalat Facilities Management was based on their specialized track record in facilities management and expertise in delivering cost effective services that excel in quality. From a broad list of contracts, Etisalat Facilities Management has shown high diligence and profound know-how in their specialized area within the facilities management domain which best suites the MEP needs of the Emirate's buildings being serviced," he concluded.
The MEP servicing to the buildings will include a state-of-the-art computerized facility system that allows for thorough documentation and tracking of the services provided. In addition, the system will produce the highest quality of maintenance that will guarantee a well planned meticulous maintenance operation for each individual building that will be characterised with optimum safety and world class facilities.
Etisalat Facilities Management will also focus on applying improved energy and environment sustainability technologies as well ensuing public health and safety are taken into consideration. Additionally, the involvement of contractors for ongoing maintenance will ensure proper preservation and sustainability by reducing its operating costs.
The company, which has been awarded ISO certifications and commended for their excellent work, has been contracted to provide full and thorough maintenance of 121 government buildings that range from entities including Abu Dhabi Municipality, Traffic Control, the Health Authority, to government establishments that are geared more towards the development and fostering of Abu Dhabi's society such as Family Development Foundation.
Etisalat Facilities Management ,  part of Etisalat Services Holding, provides a single point of contact to its valued customers through offering Integrated Facilities Management Solutions tailored to the customer's needs.