Etisalat to showcase e-Hospitality services at The Hotel Show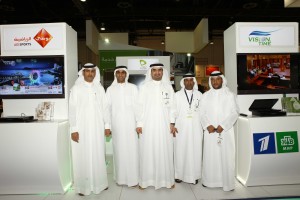 Responding to the growing information and communication technology (ICT) requirements of the region's hospitality industry, Emirates Telecommunications Corporation – Etisalat, today announced that it will showcase its latest e-Hospitality services at The Hotel Show 2012. The event takes place from May 15-17, 2012 at the Dubai International Convention and Exhibition Centre.
Etisalat will host a 91-meter stand at the event to demonstrate its full spectrum of e-Hospitality services, Etisalat's bundled solution for the hospitality sector customers. The products and service scheduled to be showcased at the event include the latest Voice, Internet, and TV services to meet Hospitality segment requirements. Etisalat is also sponsoring the Best Technology Integration Award at the Middle East Hotel Awards, which will be held on May 15 at Mina'a Salam, Dubai.
According to UAE-based Alpen Capital, there are currently over AED 21 billion worth of hotel projects, mainly in the UAE, Saudi Arabia and Qatar. The UAE and Saudi Arabia remain the two largest markets accounting for nearly 89 per cent of hospitality demand regionally. According to the February 2012 STR Global Construction Pipeline Report, more than 498 hotels, totaling 134,893 hotel rooms are forecast for completion in the region by the end of 2012, a clear indication of the market potential.
"At Etisalat, we have strategically aligned our ICT service propositions for vertical industry segments to offer the most advanced and relevant ICT Solutions to businesses," said Abdulla Al Ahmed, Acting Senior Vice President – Business at Etisalat. "The e-Hospitality solution provides our customers in the hospitality sector with a strong value proposition and in-depth sector expertise. Since launching our e-Hospitality services last October, we have consistently expanded our customer base that now consists of leading hotel properties in the UAE.
"Etisalat's eHospitality services provide hotels in the UAE the winning advantage of high-speed Internet, high definition voice and content-rich TV services for a unique guest experience. Moreover, our customer-centric services help streamline service delivery mechanism for hotels and provide higher operational and cost efficiencies. We are keen to showcase these services and its benefits to the key hospitality brands in the country and The Hotel Show is the most appropriate platform in the is regard," he added.
A contemporary bundle, Etisalat's e-Hospitality solution is available in three distinct packages: Silver, Gold and Platinum – offering voice channels, up to 1GB of dedicated Internet access and a selection of more than 300 TV channels – for hotels to choose from, depending on their unique business requirements.  The e-Hospitality solution is made available through Etisalat's IP network, providing greater reliability, higher speed and unmatched convenience through a single vendor touch-point.
Organised by dmg Events, The Hotel Show now in its 13th year is the largest hospitality supplies event for the MENA region. The event will see over 400 leading suppliers and consultants from more than 45 countries.