Etisalat Wins NCC Award for Excellent Service and Customer Care
Nigeria's most innovative and fastest growing telecommunications service provider, Etisalat has received two awards from the industry regulator, the Nigerian Communications Commission (NCC). The awards are for Excellent Service and Effective Collaboration with the Consumer Affairs Bureau to Ensure Access to Customer Care Helpline, and for Regular Attendance and Effective Participation at all NCC outreach programmes.
These awards were presented at the 9th Anniversary of the NCC Telecom Consumer Parliament held at the Country Club in Lagos. The event was attended by the Executive Vice Chairman, NCC, Dr Eugene Juwah, the NCC Commissioner, Mrs. Biodun Olujimi amongst other dignitaries.
According to the telecoms regulatory body, Etisalat Nigeria has over the years provided excellent customer care service and has continued to work hard to meet the set KPIs for customer care service delivery. The criteria used by the Commission in arriving at its decision are: call attempts made to a call centre by any consumer not to exceed 5 times; maximum ring before connection to Interactive Voice Response (IVR) not to exceed 5 times; and queuing time on IVR before transfer to call centre agent not to exceed 5 minutes.
Essa AlHaddad, Chief Commercial Officer at Etisalat Group, and Vice Chairman of Etisalat Nigeria (EMTS), said: "Nigeria represents one of the most important markets for. We are constantly striving to provide customers with premium services that help make people's lives easier.
"In September, we launched a world-class, comprehensive and accessible package of mobile commerce features in Nigeria. Etisalat's Mobile Commerce application now provides millions of people with access to banking for the very first time, and is in-line with the Group's strategy of including un-banked and under-banked customers into the regulated financial services space, enhancement of financial transparency and expansion of financial transaction channels."
Steven Evans, Chief Executive Officer at Etisalat Nigeria, said: "The award recognizes the company's customer-centric attitude, and our commitment to delivering excellent, innovative and quality services to our customers. Etisalat has received two commendations for the quality of our network from the NCC, and we are very pleased as this marks the first time any network receives such an award for customer service from the industry regulator in Nigeria. Our mission is to add value and make the lives of our customers easier by providing a quality network infrastructure and superior customer service."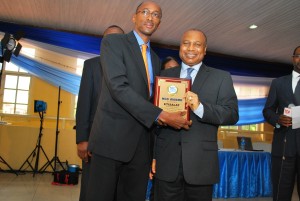 In March 2009 and December 2011, Etisalat Nigeria was rated as the best telecommunications service provider for Quality of Service (QoS) by the Nigerian Telecommunications Company (NCC) based on the Quality of Service Key Performance Indicator audit report released by the regulator.
Earlier this month, the Etisalat Group won the Social Contribution Award for its mobile health initiative in Africa from the World Communication Awards. Etisalat Group also picked up three GSMA awards, four International Business Awards and one Forbes Middle East Top Executive Management in the Arab World accolade since the beginning of 2012. This achievement is a culmination of the Group's efforts in developing and providing unprecedented services to customers across 15 countries of operation, helping accelerate social and economic development.