H.E. Ne'ema bint Jameel Al Busadiya opens new Nawras Store at Al Khoud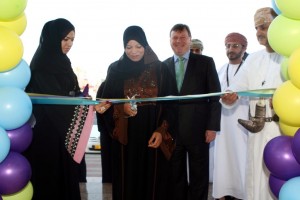 Nawras, Oman's customer friendly communications provider, recently opened another pleasingly different store, conveniently located in the bustling Al Khoud area within the Wilyat of Seeb. Guest of honour and Majlis A'Shura Member for Seeb, Her Excellency Ne'ema bint Jameel Al Busadiya, cut the ribbon to officially launch the newest Nawras Store.
Representatives from the Telecommunications Regulatory Authority also attended the event along with Nawras Store partners, Nawras Chief Executive Officer, Ross Cormack, Nawras Chief Customer Experience Officer, Said Safrar as well as Chief Sales and Distribution Officer, Hussain Al Lawati. In addition, Head of Corporate Affairs, Mutassim Hamood Al-Zadjali and other Nawras family members were present.
After signing the visitors' book, Her Excellency Ne'ema bint Jameel Al Busadiya congratulated Nawras and said that the new store shows that Nawras supports its customers by developing in new places while always giving a great experience and customer service. Her Excellency also commented on the good location and noted that Nawras is spreading to reach customers all over the Sultanate.
Her Excellency Ne'ema bint Jameel Al Busadiya toured the new store and was shown where customers are able to try out different handsets and use interactive screens to learn about the many creative offerings from this trend setting operator. Her Excellency was particularly pleased to see the introduction of a priority area for ladies – the first of its kind in a Nawras Store.
"As we continue to make it easier to buy, use, get help and pay for telecommunications services, we are delighted to open this pleasingly different Nawras Store in Al Khoud," said Chief Executive Officer, Ross Cormack. "We will now be able to get closer to our many customers in this area and provide them with our unique customer experience."
Cormack explained that Nawras is constantly growing and improving infrastructure as well as introducing new stores, products and services. He said, "In the last three months alone we have built 73 base stations and a further 6,000 square kilometres of mobile coverage."
He also highlighted the tremendous build out that has taken place with fibre optic cables and WiMAX technology now enabling Nawras to offer home broadband to more than 86% of households in the Sultanate. Cormack pointed out that last year, at the launch of Home Broadband services, Nawras covered 50 percent of households after starting from zero the year before, showing that there has been a tremendous drive to take this plug and play broadband internet service to customers all over Oman.
Later the same day, Nawras Store Manager, Moosa Al Habsi welcomed children from the Child Care Centre at Al Khoud to the new store, where they were entertained by a balloon artist and presented with gifts. This event followed on from the launch of the Nawras Goodwill Journey 7 which began at the Child Care Centre, earlier in the year.
The Nawras Store Al Khoud is situated close to the Sultan Qaboos Mosque and open every Saturday to Thursday from 9:00am until 1:00pm and from 5:00pm until 9:00pm. On Fridays, it is open from 5:00pm until 9:00pm. A self service machine provides for fast and convenient payment of bills and recharge.
Nawras, a Qtel Group company, is dedicated to enriching the lives of people in Oman through better communication services.