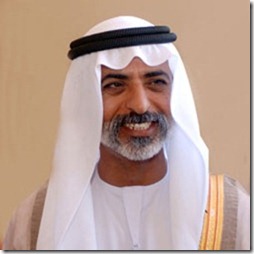 HE Sheikh Nahyan bin Mubarak Al Nahyan launches du-supported Career Centre
HE Sheikh Nahyan bin Mubarak Al Nahyan, Minister of Higher Education and Scientific Research and Chancellor Higher Colleges of Technology, officially launched the Higher Colleges of Technology (HCT) Career Centre, supported by du, on 20 October. The centre is located at Dubai Men's college, Dubai Academic City. The facility will be available to Emirati students from across the UAE, irrespective of their academic affiliation. Students who book an appointment through HCT will enjoy a comprehensive, specially-designed experience that will train them for job interviews.
Present at the ceremony were Dr. Tayeb Al Kamali, Vice Chancellor of Higher Colleges of Technology accompanied by Fahad Al Hassawi, Chief Human Resources and Shared Services Officer, du; Yaser Obaid, Vice President – Human Resources, du and Jamal Lootah, Senior Director National Recruitment & Development, du, among other representatives from du executive management.
The main attraction of the career centre is the interactive interview room, which has been designed by du. It is equipped with a screen to display a list of questions that an employer may ask a job seeker. The response of the student it is recorded and evaluated at a later stage. The centre also include a career advisor's office, in which HCT and experts from du can provide advice and evaluate the interviews conducted, to help Emiratis hone their interview skills. The venue also includes a chill-out room, equipped with screens for presentations and work stations; an operator room.
Dr. Tayeb Kamali, Vice Chancellor of the Higher Colleges of Technology, said "The innovative interview room will greatly assist students, graduates and employees hone their vital employment skills. The Higher Colleges of Technology provide cutting-edge, student-centred and relevant technologies and education practices, preparing its graduates for in-demand careers in this increasingly globalised economy,"
"With this interactive interview room, du and the Higher Colleges of Technology are nurturing the next generation of technology oriented graduates, who are ready and able to fulfill leadership roles in the UAE. We thank du for their continued support of our colleges, students and graduates, and we look forward to many more joint initiatives," added Dr. Kamali.
"We are excited with the launch of the career centre, and for the prospects it offers to Emiratis looking for a first-hand job interview experience," said Fahad Al Hassawi. "One of our primary concerns as a UAE company is to promote the employment of Emiratis across the country. Supporting the career centre is our latest move to provide essential skills to UAE Nationals for their improved employability, and we are proud to be able to assist in the development of our country's citizens."
"This is the first time such a concept has been introduced; it was inspired by our participation in Career Fairs across the country, and from interest posed by job seekers," Hassawi added.