HKT wins contract for the provision of Wi-Fi facilities at Government premises under the Government Wi-Fi Programme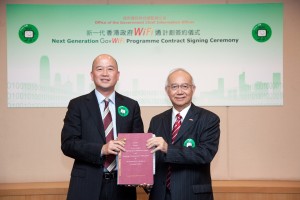 HKT, Hong Kong's premier telecommunications service provider, has been awarded a new contract to design, build, and support Wi-Fi facilities at designated Government premises all over Hong Kong under the Government Wi-Fi Programme.
The contract has been awarded to HKT by the Government of the Hong Kong Special Administrative Region as represented by the Government Chief Information Officer. It covers the design, development and operations of Wi-Fi service, installation of Wi-Fi access points and provision of maintenance support, as well as customer hotline and end-user support. HKT will progressively implement Wi-Fi facilities at designated Government premises in the next 18 months.
The contract work primarily involves the implementation of Wi-Fi facilities with more than 2,300 Wi-Fi access points and the latest wireless network technology 802.11n which will provide better signal coverage, enable faster data transfer and reduce signal interference.
As the Internet is in transition to IPv6, the new Programme will support both IPv4 and IPv6, enabling the public to access services delivered through both standards.
Apart from the speed and technology revamp, the Government Wi-Fi Programme also expands its scale to cover approximately 440 Government premises, including Tamar Park next to the new Government Headquarters and other Government offices, major parks and tourist spots, public libraries, as well as cultural and recreation centers.
The new Programme will continue to support 802.1x secure access. In addition to providing encrypted Wi-Fi access, the network is protected by Internet firewall, IDS (Intrusion Detection System) and IPS (Intrusion Protection System) to minimize the risk of hacking or IT attacks. Content filtering system is also implemented to protect users from unintentionally accessing websites with inappropriate contents like pornography.
Mr. Tom Chan, HKT's Managing Director of Commercial Group, said, "We are honored to participate again in this Government initiative to further establish Hong Kong as a superb Wi-Fi city. With our strong track record in designing, building, and operating wireless networks in high-density urban areas, we have crafted a well-conceived wireless network solution which will provide a faster and better Internet experience for the public."
Mr. Daniel Lai, Government Chief Information Officer, said, "The contract was awarded through an open, fair and rigorous tendering process. I look forward to working closely with HKT to continue the provision of high quality public Wi-Fi service."