Huawei Releases 2012 Audited Financial Results
Company expects compound annual growth of 10% over next five years, offering latest business projections in Annual Report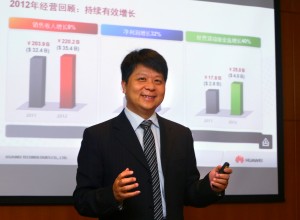 Huawei, a leading global information and communications technology (ICT) solutions provider, has released its audited 2012 financial results and announced projections for 2013 as part of the company's voluntary Annual Report. Huawei achieved steady business growth, recording sales revenues of $35.35 billion and net profit of $2.47 billion. In the next five years, Huawei has forecasted a compound annual growth rate of 10%.
Although a private company, Huawei's full-year results have been independently audited by international accounting firm KPMG since 2000 and are regularly outlined in the company's Annual Report.
"In 2012, Huawei met business performance expectations through improved operational efficiency," said Guo Ping, Huawei's Rotating and Acting CEO. "Today, telecom networks are yet to meet the requirements for ubiquitous connections – zero wait time, ultra broadband, and smart applications. In the future, ICT will continue to grow, with new opportunities coming from cloud computing, BYOD (Bring Your Own Device), and big data, and feature phones being replaced by smartphones at a faster rate. Huawei will continue to focus on its pipe strategy, integrate and develop businesses around the information pipe, and create value for customers, while achieving sustainable and effective growth."
Within the latest report, Huawei further revealed that in 2012 it invested $4.83 billion—or 13.7% of its total sales revenue—into its research and development program. The company today maintains a total of 16 R&D centers and 28 joint innovation centers worldwide.
Over the last year Huawei's global business demonstrated robust growth across all three of its main business groups (BGs). Its Carrier Network group maintained its leadership position achieving $25.7 billion in sales revenue, an increase of 6.7% year-on-year. Huawei's Enterprise BG continued to grow in the Chinese market and actively expanded internationally, achieving $1.85 billion in sales revenue, a 25.8% increase from the previous year. The company's Consumer BG saw global sales revenue reach $7.7 billion, an increase of 8.4% year-on-year.
Rapid growth in Europe, the Middle East, and Africa (EMEA) contributed to record regional sales revenue of $12.42 billion, an increase of 6.1% year-on-year. In the Asia Pacific region, sales revenue was $6 billion, an increase of 7.2% year-on-year; in the Americas, sales revenue was $5.1 billion, an increase of 4.3% year-on-year. Huawei also generated $11.81 billion in revenue from China, an increase of 12.2% year-on-year.
Within the Middle East, Huawei has over a decade of regional experience and has maintained consistent double-digit revenue growth in recent years driven by over 3,500 employees working across the company's three core business groups.
Moving forward, Huawei's Carrier Network BG is committed to being the preferred partner of its customers. Through vertical integration and continued investments, Huawei will continue to maintain its leadership position in network equipment. The Carrier Network BG will also strive towards operational excellence by capitalizing on opportunities presented by the increased demand for professional services, carrier data center integration and cloud services.
Huawei's Enterprise BG will adhere to an integration strategy and focus on developing partnerships and helping those partners improve their business capabilities and by providing the industry's most competitive products in the areas of cloud computing, data center solutions, and storage.
Huawei's Consumer BG is also set to become a world-leading smart device brand that delivers a superior customer experience. Huawei will continue to simplify its management processes, improve efficiency, and strive to create greater value for customers through its passionate and energetic 150,000 employees and industry-leading innovation.