Intel Inside® Smartphones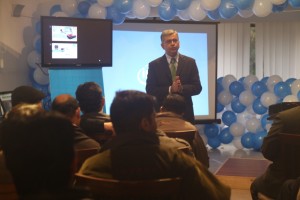 "This is a billion(s) unit market and it's growing fast. We think that we can be a big player… Overtime, we believe we can achieve better power than our competitors, in terms of the chips, and more performance. We're in the game today and we'll improve from here. "
Stacy Smith, Intel CFO
Throughout its 40 year history, Intel has been a driving force in the evolution of computing. From mainframes in the 1960s, to the rise of desktop PCs in the 1980s, through to the last decade which has seen computing become much more personal and mobile, Intel's contributions have been critical.
Intel is now bringing its expertise and knowledge of computing and communication to smartphones and the company is committed to growing its business in this market segment. 2012 saw the introduction of the first smartphones with Intel Inside® across key high-growth markets. These include devices from Lava International* in India, Lenovo* in China, Orange* in Western Europe, MegaFon*in Russia, ZTE* in Europe, and Motorola Mobility* in Latin America, Europe and China. In 2013 Intel will build on this foundation and its strong roadmap to expand its customer footprint and geographic presence.
Mobile Communications
While better known for its prowess in computing, Intel has solid and invaluable experience in developing solutions for mobile communications. Intel is a leading provider of cellular platforms to top tier global phone makers, and its technology is inside hundreds of millions of popular devices. To date, Intel has also shipped one billion SoCs targeted at high-end feature and ultra-low cost phones, and M2M solutions.
Intel offers a mature and full solutions portfolio of RF transceivers, 2G/3G and upcoming 4G LTE cellular platforms for mobile phones, smartphones, M2M and other mobile computing devices. Intel's connectivity businesses will play a key role in the company's growth beyond the PC and into a wide range of 'smart' mobile devices that are always on, always connected and always secure.
Steering the Smartphone Strategy
Intel's smartphone efforts are being led by mobile and wireless industry veterans Hermann Eul and Mike Bell, both Vice Presidents and Co-General Managers of the recently formed Mobile & Communications Group. Eul joined Intel in early 2011 when the acquisition of Infineon's wireless solutions business was completed. Bell came to Intel in July 2010 from Palm, prior to which he spent 16 years at Apple. Under their management, Intel is bringing its computing heritage, unrivalled manufacturing capabilities and its deep software experience to smartphones.
The company's approach to the smartphone market segment is unique. By using its industry-leading processor technology and manufacturing expertise, Intel is investing heavily in the development of Intel® Atom™ processors, specifically for smartphone SoCs (System-on-Chip). These chips will bring exceptional performance to smartphones, without compromising on power consumption and battery life.
Intel® Smartphone Reference Device – It's All About the User Experience
However, the user experience is about more than just the processor – it is about the underlying architecture, the performance delivered, and the software optimization of the entire platform. As a result, Intel developed a fully optimized and customer ready Smartphone Reference Device based on the Intel® Atom™ processor Z2460 (codenamed Medfield). Intel will continue to develop customer ready reference devices with each new Intel-based platform.
The Intel-based platform allows software and services to take advantage of the underlying processing performance and SoC features. This translates into an outstanding user experience, including fast web browsing, downloads and great multitasking.
The Intel Smartphone Reference Device provides a strong technology foundation from which customers can innovate and bring to market their own designs. It is foremost intended to showcase the Intel chipset capabilities, but also acts as a customer ready platform. The reference device helps shrink development time and costs for phone OEMs and carriers by allowing them to innovate on top of the existing platform with focus on their own unique hardware and software differentiation. LAVA International*, Megafon* and Orange*are examples of this.
Highlights of the current reference device include a fast camera that can take 10 photos in less than a second at 8 megapixel quality; 1080p HD video capture; competitive performance and battery life; and up to 14 days of battery on standby mode .
Intel's recent efforts have focused on smartphones based on the Android* platform. However, Intel will broaden its support for smartphones as the market demands it.
Ecosystem Highlights
Intel is working closely with partners around the world to develop smartphones based on Intel
technology. The first phones with Intel inside have launched in India, China, Europe and Latin America. Intel will continue to invest for long-term success with customers, technology and capabilities as it addresses new global market opportunities.
April 2012 marked the arrival of the first smartphone with Intel inside, the XOLO X900*. The smartphone from Lava International Ltd., one of India's fastest-growing mobile handset companies, is based on Intel's Smartphone Reference Design.
LePhone K800*, Lenovo's first smartphone with Intel inside followed one month later in May. The smartphone features the Intel Atom processor Z2460 and brings mobile phone users in China a high performance, low power smart computing experience. The launch highlighted a long-standing engagement of collaboration and innovation between the two companies which spans many facets of mobile computing.
This was quickly followed in early June by the availability of Orange's first high-performance smartphone with Intel inside to consumers in the UK and France. Based on the Intel Smartphone Reference Design, the two companies worked closely together to customize and design the platform which includes a host of Orange applications and services.
In August, Intel and MegaFon launched the MegaFon 'Mint', MegaFon's first high-performance
smartphone with Intel Inside for Russia. Intel and MegaFon worked closely together to customize the Intel Smartphone Reference Device to include a host of MegaFon applications and services.
Intel is also working with ZTE* on a multi-year mobile device collaboration across smartphones and tablets. ZTE announced its first smartphone with Intel Inside®, the ZTE Grand X In, with availability in Austria via T-Mobile*, Poland via T-Mobile*, Hungary via T-Mobile* and Greece via Cosmote* with additional European introductions to come.
In September, Motorola Mobility introduced RAZR™ i with Intel Inside®. RAZR™ i features the Intel® Atom™ Processor Z2480 with Intel® Hyper-Threading Technology, and is the first smartphone with a processor that can achieve speeds of 2.0 GHz. Motorola's RAZR i is now available in European and Latin American markets including the U.K., Ireland, France, Germany, Argentina, Brazil, Chile, Columbia, Peru and Mexico. This was followed in November with the launch of the Motorola MT788 in China, an Android-powered smartphone with Intel Inside from Motorola Mobility* and China Mobile*. These phones were the result of a multi-year strategic mobile relationship between Intel and Motorola Mobility which includes smartphones and tablets using Intel Atom processors for the Android platform.
Intel and Visa* announced a strategic multi-year alliance enabling a range of Visa mobile services across Intel Atom-based smartphones and tablets. The Intel Smartphone Reference Design is certified for Visa PayWave* mobile financial transactions, which will accelerate time to market of customer designs based on this platform. PayWave is Visa's mobile wallet and secure NFC transitions solution.
Intel and Google* are working together to optimize future versions of Android for Intel's family of low power Atom processors. This means that future versions of the Android platform will support Intel technology in addition to other architectures. The joint effort is designed to speed time-to-market of Intel technology-based smartphones running the Android platform.
Intel Product Roadmap
In 2013 Intel will deliver new SoC platforms and technologies for the performance, mainstream and value smartphone market segments.
Intel has disclosed plans for the Intel® Atom™ Processor Z2580-based platform targeted at performance / mainstream market segments. It includes a 32nm-based Dual Core Atom™ processor with Intel® Hyper-Threading Technology, a Dual Core Graphics Engine and will support HSPA+ at introduction followed by LTE.
Setting new performance standards for the value smartphone market segment, Intel has also disclosed plans for a new Atom™ processor platform that will enable OEM partners to develop lower cost smartphones without sacrificing performance. Industry sources predict the value smartphone market segment could reach up to 500 million units by 2015 .