Intelsat is the leading provider of satellite services worldwide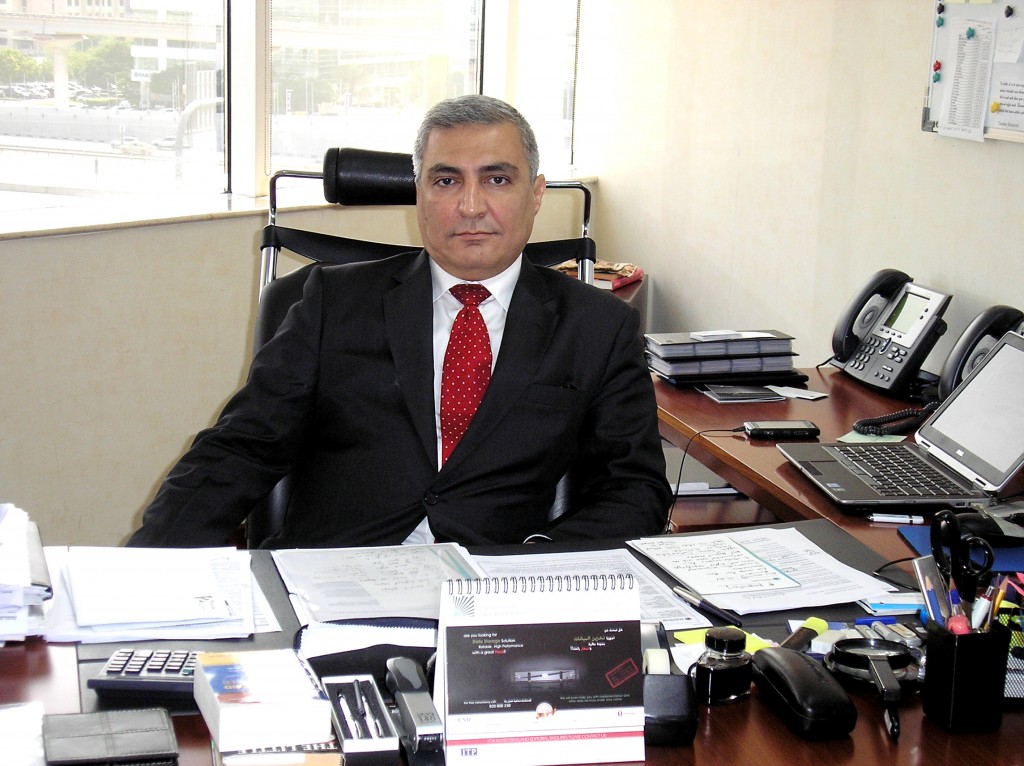 Shahrokh Khanzadeh-Amiri
Managing Sales Director
Europe/ME  Intelsat
Shahrokh joined Intelsat in 2006 as Managing Sales Director. Shahrokh is responsible for all Intelsat Operations in the Middle East and is based in Dubai, UAE. Shahrokh has more than 25 years experience in communications. Before joining Intelsat Shahrokh was with PanAmSat Corporation as Regional Director for the Middle East. Shahrokh worked for the BBC World service, where his area of expertise was the former Soviet Union and Eastern Europe.
Shahrokh holds a First Class Honours degree in Electronic and Electrical Engineering from the University of Newcastle, United Kingdom and Post Graduate qualifications in Data Communications from Brunel University, U.K. Shahrokh is a Chartered Engineer and member of Institute of Engineering and Technology in the U.K.
Intelsat is the leading provider of satellite services worldwide. For more than 40 years, Intelsat has been delivering information and entertainment for many of the world's leading media and network companies, multinational corporations, Internet service providers and governmental agencies. Intelsat's satellite, teleport and fiber infrastructure is unmatched in the industry, setting the standard for transmissions of video, data and voice services. From the globalization of content and the proliferation of HD, to the expansion of cellular networks and broadband access, with Intelsat, advanced communications anywhere in the world are closer, by far.
Teletimes – Please tell us about Intelsat, its products and operations in the Middle East.
Shahrokh Khanzadeh Amiri  – Intelsat is the leading provider of satellite services worldwide, supplying video, data and voice connectivity for leading media and communications companies, Internet Service Providers and government organizations. Intelsat's terrestrial network of seven strategically-located teleports and over 36,000 miles of leased fiber complements a global satellite fleet of more than 50 satellites, covering 99% of the world's population.
Today in the Middle East, we offer media services, with five of our video neighborhoods serving Europe and the Middle East. We also provide services such as cellular backhaul, corporate networks, broadband and mobility throughout the Middle East and around the globe.
TT – What is Intelsat EpicNG and what will it provide to the industry?
SK – Intelsat EpicNG is a high performance satellite platform based on an open architecture, designed to deliver carrier-grade, dedicated high throughput capacity to meet the growing bandwidth needs of our customers in all regions.
Intelsat EpicNG represents the progressive evolution of our network infrastructure, a complementary, high performance layer to the Intelsat fleet.
It will combine our spectral rights with the technical advantages of spot beam technology.
It is designed to provide high performance capacity to our customers with an architecture that gives them a greater level of control and freedom of choice over hardware and service attributes, allowing more opportunity to develop new service offerings and grow their businesses.
TT – When will be the new system in operations?
SK – To start, the platform will be comprised of two Intelsat EpicNG-class satellites – Intelsat 29e and Intelsat 33e – with expected in-service dates in 2015 and 2016, respectively.  Combined, the satellites will have extensive coverage throughout the globe.
TT – How do you distinguish yourself from other satellite solution providers?
SK – Our satellite fleet is integrated with our IntelsatOne terrestrial infrastructure, which includes 36,000 miles of fiber, teleports, shared data networking platforms, and peered points of presence (PoPs) to deliver the most efficient solutions to customers. Our alliances with BT and PCCW enable Intelsat to extend the reach of IntelsatOne to customers operating in new locations around the globe.
TT – Are you looking forward to attract the cellular customers in the Middle East region?
SK – The cellular backhaul sector is one of the fastest growing sectors in the industry, not only in the Middle East, but in other regions like Africa.
We offer connectivity to serve cellular backhaul in the Middle East and Africa, either by working directly with operators or via value-added offerings by Intelsat customers, who are offering managed services to this sector. Currently,  we have significant capacity on our fleet that is utilized for cellular backhaul.
Satellite is a very cost effective way for the mobile operator to deploy quickly new network or to expand existing network in less populated area. In addition to offering the local connectivity, Intelsat is also well designed to provide international communication.
Our product development team is continuously working on new solutions and applications to support the ongoing growth of this sector and to ensure Intelsat remains the industry leader.

TT – Please highlights some details for Media services?
SK – There is moderate growth for media services in the Middle East following the Arab Spring.  FTA channel platforms are adding more SD and HD channels.
Intelsat is providing international distribution for a number of Media customers in the region. We have been selected by the ASBU (Arab Sate Broadcasting Union) for the distribution of their bouquet into North America. We also distribute a number of channels in Australia.
TT – What do you rate as a driving force for broadcasting business with reference to INTELSAT?
SK – Customers taking their programming to the global platform. Many programmers (Discovery) offer multiple versions of its channel in different languages in the same region (Asia), for example. More programmers going global than ever before and we enable that.
New channels are being created to reach smaller audience and deregulation is creating a flurry of small channels.
TT – Satellite communications are considered very expensive communication medium. Is it a reality?
SK – Satellite communications is well suited for specific applications that can benefit from the technology. If you consider that satellite can make available Gbps of capacity to each home with a dish, then you could argue that this is significantly cheaper than laying fiber to millions of homes. In some parts of the globe, satellite technology is simply a more practical and reliable solution. Intelsat has the benefit of offering a ground and satellite technology solution that provides reliable and extensive coverage to our customers in even the most challenging of circumstances.
TT – Some words about Teletimes International.
SK – Teletimes is a publication that gives insight information about various sectors of industry, not only for the Middle East, but in Africa and Asia. It provides valuable information about the hot topics of the Industry.