Local Businesses to Stay Better Connected with New Huawei eSpace Unified Communication Platform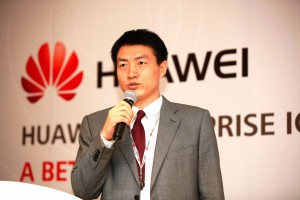 Company hosts live showcase of its new eSpace UC2.0 solution during Middle East product launch
Huawei, a leading global information and communications technology (ICT) solutions provider, today unveiled its latest unified communications solution—Huawei eSpace—which was demoed during a live exhibition at the company's state-of-the-art Executive Briefing Center in Dubai.
With regional business collaboration and mobile communications becoming increasingly popular in the Middle East, Huawei's second-generation eSpace UC2.0 solution offers organizations a single platform through which their employees can stay connected on almost any mobile device through high-quality voice over IP (VoIP), collaborative conferencing, remote training, and other office applications. By allowing users to experience seamless communication while on the move, companies can realize significant cost savings from reduced IT power consumption, space and hardware requirements, as well as increased employee efficiency.
"Today unified communication technologies are already starting to be deployed in the region by organizations of all sizes and across industry verticals. However, taking advantage of the full benefits that unified communication tools offer have still yet to be realized," says Dong Wu, Vice President of Huawei Enterprise Middle East. "Through the application of the new converged Huawei eSpace client that brings four unique features onto a single platform, we look forward to helping local businesses reduce their office costs, streamline communication processes, and empower their employees whether in the office or on-the-go."
Leading market intelligence and advisory firm IDC estimates that the combined unified communications and collaboration market for Qatar, Saudi Arabia, and UAE was worth $234.9 million in 2012 and is anticipated to grow to $406.8 million in 2017 at a CAGR of 11.6%. According to IDC's last survey of medium-sized to large businesses in the Middle East, over 48% of companies currently use UC solutions and a further 32% plan to acquire this technology within the next year.
Bringing the Office Together
A unique feature in Huawei's latest eSpace UC2.0 solution is that its modern UC platforms enable the use of video to communicate with one another via mobile devices. Not only is this the most effective face-to-face communications method between an organization's different country office, but employees who work from home and those temporarily stationed at off-site locations can continue to be productive anywhere, any place at any time.
"Organizations are always trying to make sure they attract and retain the best talent," adds Dong Wu. "To do that, companies need to be able to provide the tools that enable their employees to be productive wherever they are. If a company doesn't offer this, it is very likely that their most valued employee will want to work somewhere else. This is why is it important for ICT vendors like Huawei to build out a platform that enable such activities to take place. We look forward to exploring how Huawei eSpace can add further value to organizations in the region with the support of our local partners who are key to supporting such technologies."
Huawei's eSpace UC2.0 solution offers an impressive service portfolio based on an open exchange platform that ensures a consistent user experience across an end-user's organization. Huawei not only has a strong track record of technology innovation, but also understands how organizations can integrate unified communication solutions with existing platforms so that businesses are able to protect their capital investments.
As part of its regional unveiling, the eSpace system will offer a series of products covering the needs of both SMEs all the way up to large-enterprises that support hundreds of thousands of employees. For SMEs in particular, the eSpace U2980 gateway now provides an all-in-one communications service that can significantly reduce system development costs, provide quick service deployment, and simplify system operation for those without extensive IT support.
The eSpace UC2.0 system also seamlessly integrates with office systems such as office automation (OA), Outlook, customer relationship management (CRM), and enterprise resource planning (ERP) networks. Huawei's new eSpace solution fully complies with an impressive array of video formats, from QCIF to 720p, with the video system also integrating with Huawei's cutting-edge Telepresence system—allowing users to enjoy HD video communication anytime, anywhere.
Huawei Enterprise Advancement
With its advancement into the regional UC market, earlier this year Huawei successfully rolled out a large scale deployment for Oman's Ministry of Manpower. With a fully integrated IT telephony solution which forms part of the Unified Communications portfolio, the system upgraded the Ministry's existing communications network for up to 2500 users to enjoy seamless integration of voice, video and data sharing between offices locally and internationally. The solution was able to significantly reduce the Ministry's administration and operational costs while bringing with it new features like video-conferencing, mobile integration and instant messaging.
The company has also focused over the last year on strengthening its channel network through a series of high-profile partnerships. This has included an agreement with Optimus, a leading regional Value Added Distributor (VAD) of IT and telecommunications products, in March 2013 to expand Huawei's channel network across the GCC with a particular emphasis on its unified communications portfolio. In August, Huawei also announced a new channel partnership agreement with UAE-based Telematics, adding the systems integrator to its authorized partner network in anticipation of regional market growth in the unified communications segment.
Offering state-of-the-art products and solutions across industries including government, oil & gas, transportation, healthcare, education and more, Huawei is today making significant headway into the enterprise ICT sector.
IDC has noted a renewed interest in UC solutions globally in 2013, driven by segments such as mobility, collaboration, and video conferencing. The firm has said that a good percentage of the global market is still slowly transitioning from old telephony and messaging platforms to new UC platforms, but that many companies still face challenges over issues such as identifying proper use cases, implementation and support skills, and the integration complexities associated with UC deployment projects .
#Connected# Huawei eSpace# Local Businesses# Unified Communication Platform