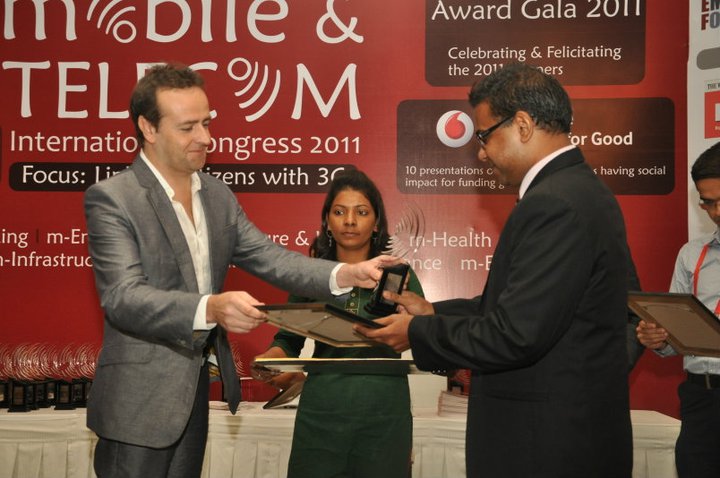 M-billion Award to "Etisalat's Lanka" AppZone
Ratnayak "Etisalat Lanka" provides full lifestyle experience
More than just a voice service "
Group Media Desk – Abu Dhabi and Sri Lanka: – "Etisalat Lanka" the arm of "Etisalat Group" in Sri Lanka has walked away with the prestigious m-billionth award for their AppZone, the mobile application development platform, the one stop-shop of all consumers communications needs in Sri Lanka.
The selection committee was headed by Dr. Amir Ullah Khan, Deputy Director, strategy at the Bill and Melinda Gates Foundation and membership of senior dignitaries from the various walks of the industry. This ceremony is organized every year in recognition for those who drive mobile latest technological innovations and latent potential within the mobile and telecommunication sector, providing cost effective solutions, content and applications to be delivered to the masses, as well as technology and platforms that assist application developers and content providers in reaching the said masses.
Mr. Dumindra Ratnayaka, "Etisalat Lanka" CEO, said "we are honored to win this award as a true translation of our commitment to serve our customers better. AppZone was the first independent, 3rd party application development platform to be introduced in Sri Lanka by a Telco. He added "we promised to provide our customers with exceptional communications experience more than just a voice service but complete lifestyle solutions.
Mr. Ratnayaka also elaborated on the increasing divergence of services and platforms in mobile telecommunications, "We also wanted to see the platform itself grow; as our role as Mobile Telecommunications Provider continues to expand, we have to consider the establishment and development of more value adding platforms such as the AppZone and develop the skills of those who will become the content providers on these platforms. This is why we are pleased with the way AppZone came out to help develop the skills of young technocrats in Sri Lanka by becoming a vehicle through which they have been able to get their first taste of the business, as developers and entrepreneurs. We also have to thankful to hSenid our partner to develop this significant platform to realize our intention." Ratnayak said.
Ms. Chitranganie Mubarak Senior Programme Heade-Society Programme ICT Agency of Sri Lanka and Jury Host said "Etisalat Lanka" is one of the most powerful players in Sri Lanka's telecommunications industry today. This award has been presented to them for their continuous commitment to develop and improve the way people communicate and to enrich the developer community with vibrant software. "Etisalat Lanka" is extending people Reach and bringing out more cutting edge solutions based on mobile network capabilities – to serve the community better.
This Platform was introduced by "Etisalat Lanka" in conjunction with hSenid Mobile. The platform allows innovative tech savvy individuals to use the platform to develop mobile phone applications by providing all the necessary tools. It also acts as an avenue through which these tech talented entrepreneurs can upload their applications for sale to the public, and "Etisalat Lanka" even offers them 70% of the revenue earned through their Apps. This in turn has made AppZone double as a one-stop-shop in Sri Lanka for consumers to log onto and satisfy their mobile application needs.