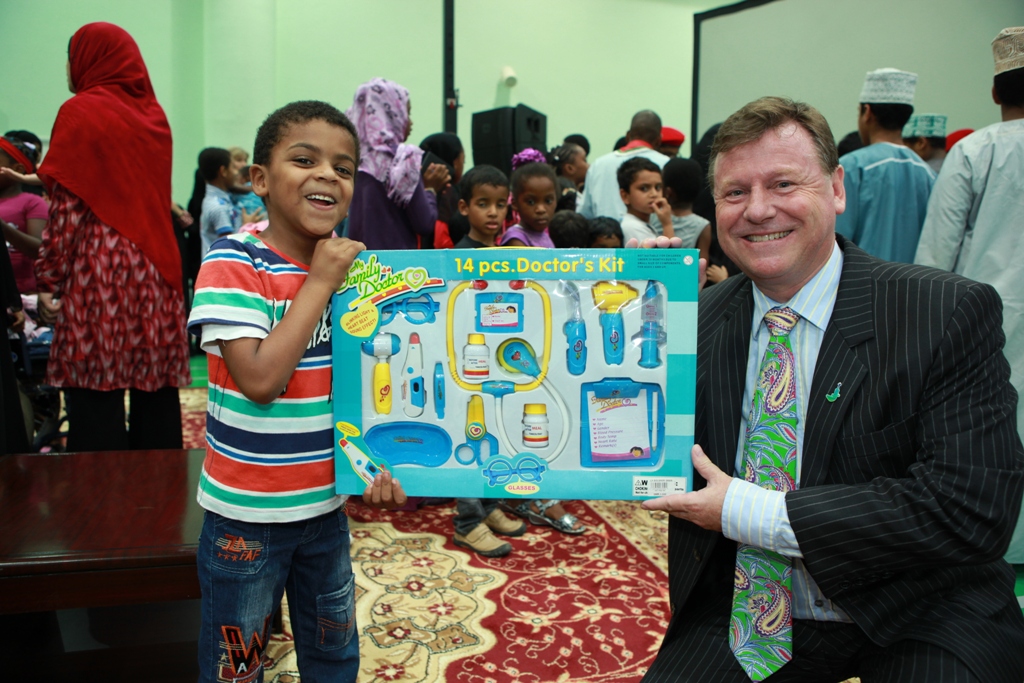 Minister of Social Development flags off Nawras Goodwill Journey 7
Nawras, Oman's customer friendly communications provider, embarked on its seventh Goodwill Journey yesterday as its
largest annual corporate social responsibility initiative began at the Child Care Centre, Al Khodh.  Chief guest, His Excellency Sheikh Mohammed bin Said bin Saif al Kalbani, Minister of Social Development, joined Nawras Chief Executive Officer, Ross Cormack, Chief Strategy Officer, Abdulla Al-Rawahy and members of the media to flag off the Nawras convoy of volunteers.
His Excellency said, "We thank Nawras for undertaking this caring journey to provide assistance to those who need a helping hand.  It is encouraging to know that Nawras is focusing its efforts on providing long term benefits.  Like ripples on a pond, these acts of kindness will spread out from the initial beneficiaries to reach others in the community."
During the short ceremony and presentation, Cormack thanked H.E. Sheikh Mohammed bin Said bin Saif al Kalbani for his support and kind words before speaking about the importance and sincerity of this mission and the meaning it has for the entire Nawras family.
"We all look forward to the Nawras Goodwill Journey for several reasons," he explained.  "With the journey always taking place during the Holy Month of Ramadan which is such a special time of year, we are dedicated to making it even more memorable for all those we get closer to over the next two weeks.  Tonight is an occasion to celebrate with the children here, to share the joy of Ramadan with them and to put smiles on their faces.
"Nawras Goodwill Journey gives us an opportunity to reach out to those in our community who need our help the most.  We are privileged to be in a position to offer our assistance and we want to ensure that we are making a meaningful difference in people's lives today and in the future. It is a humbling and enriching experience for everyone involved."
The event continued with a short film being shown to depict the work of last year's Nawras Goodwill Journey and the joy it brought to so many across the Sultanate. Khalid Al-Zadjali, Nawras Protocol and Events Manager, then took the audience through the plans for this year's donations which will be supporting the chosen themes of education for children and sustainable employment opportunities for women.
Before departing for the next stop on the Nawras Goodwill Journey 7 at Wadi Al Ma'awel, toys and games were presented to the delighted children at the Child Care Centre and laptops were set up to provide valuable sources of reference and educational development.
Every year since 2005 the Nawras Goodwill Journey has travelled thousands of kilometres to visit those attending and working at many different charitable organisations across the country. As part of its role as an active and supportive member of the community, Nawras not only invests generously in community projects but Nawras family members also contribute in kind through many hours of voluntary work.
Ahead of each journey, Nawras takes time to fully understand the specific needs of each group and carefully plans its donations to best suit the intended purpose.  Long term benefits are sought to ensure communities will continue to be enriched for years after the Nawras volunteers have gone.