Nawras' innovative talent development programmes boost career progression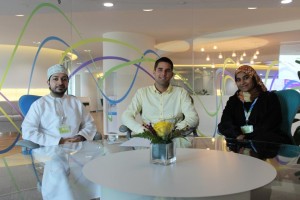 A group of 16 Nawras family members have recently completed the UK based Institute of Leadership and Management (ILM) course as they continue their development as Nawras managers. This ILM programme offers an outstanding standard of training and education to talented Nawras family members. It is an exemplary demonstration of Nawras' investment in the growth and development of their people. As the company continues to advance the careers of its family members, 118 people at Nawras have now completed ILM Diploma qualifications and a further 16 have achieved the ILM Certificate to develop coaching and mentoring skills.
ILM is an internationally renowned training course that bridges the gap between the everyday professional role and leadership opportunities. Specialist courses enable participants to focus on areas of development such as volunteer management, coaching and personnel management.
Samar Al Sheikh, Department Head – People Development, said, "The ILM certificate in management is a starting point for our people to gain the skills and confidence to progress in their career as managers. The programme provides the chance to practice and develop new skills and abilities that will help us to serve customers in a pleasingly different way. Nawras places people at the centre of everything it does, encouraging participation and training family members to deliver courses within the company to teach the skills needed to develop future leaders. By gaining more knowledge, we are able to remain customer focused and consistently improve performance to deliver an excellent customer experience."
As part of their aim of enriching careers of future generations, Nawras has also taken part in three key internship and training programmes this year. The programmes offer students the opportunity to experience life in one of the Sultanate's top organisations.
The first of these is the Nawras Internship program, organised by Shihab Al Lawati, Training and Development Senior Specialist. The program is short-term and available for students who are either nominated by the Labour Department or interested in gaining work experience during their spring and summer vacation. Nawras publish these internship vacancies twice a year on their website through social media and careers fairs. To date, the Nawras internship programme has provided 67 Omani students from local and international universities and colleges a chance to shadow an experienced Nawras family member as part of their graduation requirement.
The company also welcomed one international student from the College of Engineering at Sultan Qaboos University. This is part of Nawras' ongoing involvement in the International Association for the Exchange of Students for Technical Experience (IAESTE) programme, run by Moza Al Battashi, Training Manager. The international student, Nemanaja Davidovic, joined Nawras' technical department as an intern on 29th July for one month. He described his experience in Nawras as one which "offered me a wide range of possibilities to gain new skills by taking me to site visits, providing me with technical training and I experienced Nawras' commitment to quality of service and their commitment to finding ways to please customers. All in all, it was a great experience for me and it will definitely contribute to my engineering knowledge and help me in my future career".
Nawras also offered one Omani student the chance to experience life in the Nawras People Department as part of the Summer Internship Programme, organised by the Public Authority for Investment Promotion and Export Development (PAIPED).
Kumail Al Moosawi, Nawras' Director of People, said, "Real world insight of full-time work helps to bridge the gap between education and employment, providing exposure to the next stage of life with the chance to learn before embarking on a career. Nawras internship programmes introduce students to the Nawras family and offer them the chance to join a fast-moving industry, take part in everyday activities at an innovative company, and gain work experience to complement their study programme graduation requirements."
Nawras is committed to developing talent, through an innovative career strategy and careful mentoring process. The company seeks to empower employees and reward those who embrace new challenges. The additional skills provide new insights into how best to serve the changing needs of customers as the company remains dedicated to seeking new and better ways to surprise, delight and enthuse them.
#career progression# Institute of Leadership and Management (ILM)# Nawras family# UK based Institute