Nawras announces sponsorship of Kickworldwide programme to develop new football career opportunities in Oman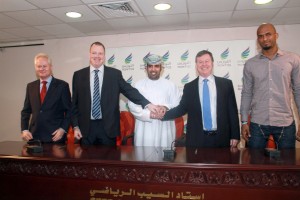 Nawras has joined forces with Kickworldwide and Oman Football Association (OFA) to support an exciting new grassroots football programme. Beginning in Sohar, the outreach programme will equip young Omanis with the opportunities to develop new skills and a range of careers in this hugely popular sport. From playing, coaching or refereeing, as a sports photographer or by practicing law in this area, Kickworldwide aims to create life changing experiences for young people in the Sultanate.
During the recent signing ceremony at the OFA, Ross Cormack, Nawras Chief Executive Officer, said, "Sport is a strong force in bringing communities together, breaking down barriers and inspiring generations. We are excited to work with Kickworldwide and the OFA on this enriching programme. Sport teaches transferable skills such as leadership, organisation, and teamwork as well as how to handle challenges, which are beneficial to all aspects of life. We are delighted to be giving the opportunity to so many young Omanis to develop their talent while gaining skills that can lead to exciting career opportunities."
He added, "The support from Nawras will offer aspiring football stars the chance to follow in the footsteps of Nawras ambassador and Oman national team captain, Ali Al Habsi. Working with Kickworldwide we will create new grass root opportunities for young people and contribute to the flourishing development of sport in the Sultanate."
Sayyid Khalid Hamad bin Hamoud Al-Busaidi, Chairman of the OFA, said, "Football is extremely popular in Oman and we are excited to welcome Nawras to the partnership with Kickworldwide. This outreach programme allows us to create additional outlets for talented Omanis to train for a career in sport that will benefit our teams, and our country, in the future."
Steve Bellis, CEO of Kickworldwide, said, "There is a great deal of young talent, both on and off the field, within Oman that can be developed even further. The project in Sohar alongside the institute recently launched within the Modern College of Business and Science in Muscat will help us identify the next generation of players as well as sports industry professionals to empower youth with a keen interest in football to develop their skills and interest into a successful career. We have vast experience in the administration of professional clubs and sporting initiatives, and through this project we look to pass on that knowledge to others to assist the progression of home grown talent within the Sultanate."
Kickworldwide was set up in 2008 by former directors of football clubs in the United Kingdom to share education, entertainment and employment through the medium of football.
Kickworldwide opened its institute in Muscat with the support of the OFA and Nawras joins the team as a key sponsor of the outreach programme. In addition to teaching football skills and transferring knowledge on coaching, refereeing and many aspects of sports management, the programme will be promoting the adoption of a healthy lifestyle by young people.
As a keen supporter of sport in Oman, Nawras, a Qtel Group company, has helped to bring communities together through a wide range of sporting activities. As sponsor of a number of key events throughout the year, Nawras has helped young people learn new skills and try new sports as part of the Ministry of Sports Summer of Sport programme and through the Beach Handball World Cup Championships on the sands of Al Mussanah.