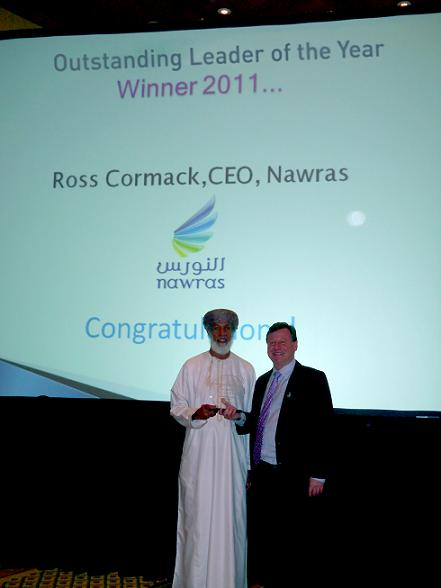 Nawras CEO Ross Cormack is named Outstanding Leader of the Year 2011 by TMT Finance Middle East
Ross Cormack, Chief Executive Officer of Nawras, has been named Outstanding Leader of the Year at the third TMT Finance & Investment Awards Middle East, held in Dubai.  This accolade for Oman's customer friendly communications provider follows a year in which Nawras became a public company after the largest IPO in the Sultanate of Oman since 2005 and also began offering broadband services to corporate and residential customers.

"It is a great honour for me to represent Nawras at this prestigious regional event and I am even more thrilled that as an Omani company, Nawras has won this award and been shortlisted in two other categories," Cormack said after receiving his trophy.
"I would like to extend my sincere thanks to the entire Nawras family and I share this award with every member of our team. Together we promised to enrich the lives of people in Oman through better communication services and it is my privilege to work with so many dedicated professionals who continue to share this strong commitment to our customers."
Nawras was also shortlisted in the category of 'Deal of the Year', in recognition of its successful IPO.  Nawras was listed on the Muscat Securities Market on 1 November 2010 as the fourth largest company in Oman by market capitalisation, after only five years.  Qtel, Wataniya, Zain and Viva Kuwait were named in this category too.
Following the pleasingly different launch of the Sultanate's first plug and play home broadband internet, Nawras was also shortlisted for 'Broadband Operator of the Year' alongside Saudi Telecom, du and Etisilat.  Nawras Home Broadband has the benefits of same-day availability, ease of set-up and a free home telephone line.  This pleasingly different service is already being offered to more than 50 per cent of households in Oman and during this year it will be extended to over 80 per cent.
Ross Cormack has led Nawras, a Qtel Group company, since formation in 2004.  From the launch of customer-friendly mobile services to today's successful public company delivering innovative mobile services and broadband internet services, Nawras has remained true to its values of being caring, excellent and pleasingly different.
In March, Cormack received the Strategic Leadership Award at the Global HR Excellence Awards.  Earlier he was named Leader in Telecommunications at the Arab Achievement Awards 2010 and prior to that, he was awarded Telecommunication Man of the Year at the Pan Arab Web Awards in 2009.
Nawras has accumulated a string of accolades including Customer Service Provider of the Year, Middle East Call Centre of the Year, Judges Award for Above and Beyond the Call of Duty as well as Middle East Mobile Operator of the Year.