Nawras female engineer honoured at Al Mar'a Excellence Awards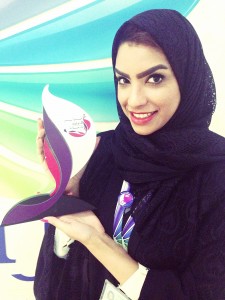 Nawras family member, Fatma Al-Hamdani, has been named Most Promising Woman of the Year at the Al Mar'a Excellence Awards, which recognises women achievers in business, industry and the community.
Following the Awards, Fatma said, "I am overwhelmed, filled with enthusiasm, pride and honour. It is a great achievement to be appreciated by Nawras Management and recognised for my potential. This award gives meaning to the effort that I put into all of my work and has shown that hard work pays off. It also inspires and encourages me to continue improving and motivates me to handle challenges with more confidence."
Joining the Nawras Transmission team in 2010, Fatma has risen to the role of Engineer – Network Records and Protection where she designed network solutions for large strategic Nawras projects for Muscat International Airport, Salalah International Airport and the Dragon Mall project in Barka. She also played a vital role in fibre planning and design for end-to-end customer solutions.
One of the key business drivers at Nawras is to listen to the 'voice of the customer' and family members really live the customer experience. , The company combines extensive global and local expertise with talented, caring people, to deliver excellence. Career development at Nawras is supported by an award-winning Human Resources department and the 'People Experience' department, which is the first of its kind in Oman and the first in the Ooredoo group.
Nawras ,female, engineer, honoured , Al Mar'a Excellence Awards