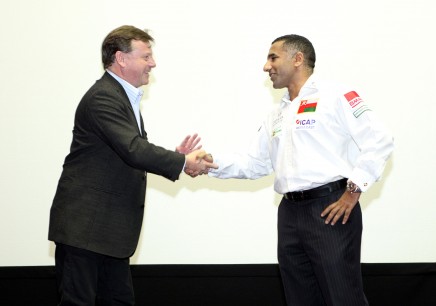 Nawras hosts premiere of 'The Arab who took on the Arctic'
Film tells journey of First Arab to reach Magnetic North Pole
Nawras proudly presented the premiere of the film 'The Arab who took on the Arctic'; an inspirational story of Omani Nabil Al Busaidi, who became the first Arab to reach the Magnetic North Pole. At the event, hosted recently by Nawras Chief Executive officer Ross Cormack, the audience included Royal Family members, senior government officials, diplomats, Elite Platinum customers, members of the Nawras family and the explorer's friends and family.
Al Busaidi, better known as Nabs, entered the City Cinema Shatti to an almost Oscar-like reception. After taking photos with arriving guests, he opened the evening's programme by giving a short introduction to his adventure before letting the film tell the full details of his incredible journey.  When the closing credits rolled the audience broke into spontaneous applause and many stopped to offer their congratulations to Nabs for this fantastic achievement.
Ross Cormack thanked Nabs for allowing Nawras to be part of his great adventure and said, "We were delighted to offer our support by being the official telecommunications partner for this challenging expedition and historic achievement."
Nabs responded by thanking Nawras for the support he has received from his official telecommunications partner by saying, "I really appreciate the great enthusiasm of everyone at Nawras and I thank you again for providing me with the reliable means to communicate with the rest of the world during my expedition. With your help for this documentary film, more people will now be able to see and appreciate the awe-inspiring wonders of the North Pole."
As the story of Nab's adventure unfolded, the tremendous courage and determination he had shown in dealing with the extremely low temperatures was clear. The video diary gave a touching, amusing and informative account of the expedition.
"My biggest challenge was the cold," Nabs said.  "However I was determined to be the first Omani and the first Arab to get to the Magnetic North Pole and wanted to use my experience to inspire young people to pursue their goals."
On his challenging journey from Resolute Bay to the North Pole in 2009, Nabs walked over 650 kilometres, dragging the equivalent of his own body weight in equipment without any support from ski-doo or even dogs and sledges. Nabs fought polar bears, frostbite, large rubble fields and thin ice on his way to write history as the first Arab to walk to the Magnetic North Pole.
Nawras, a Qtel Group company, is also the proud sponsor of Omani goalkeeper Ali Al Habsi, the only Omani to be playing in the English Premier League and Ahmad Al Harthy, Oman's top racing driver who recently made history as the first Arab to be on top of the Pro-Am 1 podium.