Nawras People Development trainers mentor Omani college students with skills workshops
Emphasising the important role that education plays in the business world, trainers from Nawras People Development recently mentored 18 students from the Higher College of Technology Muscat who were preparing to enter the workplace. During the session, the students learned how to formulate ideas and work together as a team to develop a project for presentation.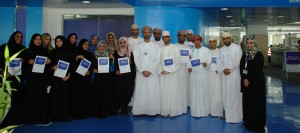 "Being able to express yourself accurately and with confidence is an invaluable skill that helps young people stand out in college and at job interviews. Team work and problem solving skills equip the students for a variety of workplace situations and help them to prepare more professionally", Usama Al-Farsi, Nawras Human Resources Trainer, commented. "The session brought together students from different majors to learn from each other and develop vital skills that can have a huge impact on their studies and can be carried forward to benefit them in their future careers. This initiative is in line with our belief and support of human development."
Consisting of motivational videos and team activities, the training session focused on the importance of learning listening skills and how to transfer knowledge and skills into real life scenarios both now and in the future. Students were taught how to draw inspiration from all around them as well as being encouraged to learn from life's experiences so as to keep improving themselves.
The main team activities challenged students to consider the future and their role in society later in life. This exercise highlighted each individual's skills, examined how they contribute to the group and looked at the challenges that lie ahead. Through cooperation and working towards a specified goal, the group, who have only known each other for three months, were able to assign responsibilities and work effectively as a team.
Senior students at the college created a company called 'Masaar for Marketing Solutions' as part of their final assessment project. Drawing on a wide range of skills, students from different courses assigned specific roles to each other and trainers from Nawras helped the students to channel these skills into a professional organisation and company structure. Future sessions are planned to allow Nawras trainers to assist in the first steps of running and marketing a business by assisting the students in developing a robust business plan and adopting efficient working practices.
Nawras is committed to supporting the education sector in Oman. Through workshops, visits to institutions and the use of real life examples, highly-skilled Nawras trainers are able to help students reach their potential and prepare for the next step in their own journey. By nurturing talent and passing on expertise and experience to the next generation of Omanis, Nawras continues to fulfil its promise to the people of Oman to be caring, excellent and pleasingly different.