Nawras sponsors a diverse range of events to get closer to the community during April 2013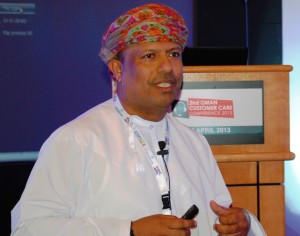 Nawras has continuedits promise to enrich the daily lives of people in Oman through better communications by sponsoring a diverse range of events during April. Supporting the Ministry of Heritage and Culture, Nawras is sponsoring the 'Oman History in Images: The Making of Civilisation through the Ages' exhibition at Muscat Grand Mall. The company was also the telecom sponsor of therecent Oman Customer Care Conference and the Red Bull Soapbox Race.
Mutassim Hamood Al-Zadjali, Nawras Head of CSR & Events, said, "We are committed to engaging with the community through entertaining and informative projects, large and small, and always look to participate in activities which bringthought leaders and the community together to support the social and economic developmentin Oman. We were delighted to have the opportunity to share our knowledge and expertise at the second Oman Customer Care Conference at which we spoke about the importance of delivering an enriching customer experience."
He added, "The Oman History in Images exhibition raised awareness on the Sultanate's rich and diversified history and shed light on the importance of preserving heritage sites across the country. In contrast, the Red Bull Soapbox event was ground breaking for Oman with 42 teams competing and thousands in attendance during the first ever amateur soapbox roadsters racing competition in the Middle East. We are honoured to continue being part of such exciting, informative and hugely popular events."
The 'Oman History in Images' exhibition will be open to the public until 17 May 2013, illustrating the history and development of the country through high resolution images from each stage of history. Beginning with the first presence of mankind in Dhofar about 150,000 years ago to the Majan civilisation period in the early Bronze Age and tribal gatherings during the early Iron Age, the exhibition charts the development of Oman to the modern era.
As telecom sponsor of the second Oman Customer Care Conference, Nawras shared experiences to show how to turn customers into fans. Providing an unrivalled customer experience is central to the Nawras vision which has been recognised with several awards including the Customer Service Excellence Award at the first Oman Customer Care Conference in 2012.
Nawras is Oman's customer friendly communications provider, engaging with the community in many different ways. From sports to the arts and from education to technology, the company is committed to providing pleasingly different support for people across the Sultanate.