Nawras WiFi launched to help companies get more from their business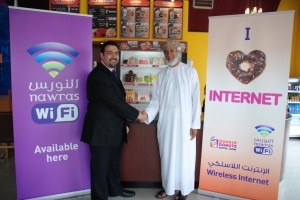 Nawras, Oman's customer friendly communications provider is delighted to now be offering WiFi services for business entities which can in return sell or offer the services to their own customers. Abdullah Al Rawahy, Nawras Chief Strategy Officer, recently met with Khaled El Dalaty, Operations Manager, Dunkin Donuts, to launch the first Nawras WiFi hotspot in Muscat.
The inaugural Nawras WiFi service was unveiled at the colourful new Dunkin Donuts outlet at Al Khuwair where customers can enjoy a coffee while browsing the internet, checking emails or visiting social networks using this high speed broadband access powered by the reliable Nawras network.
Offered by Nawras Business under their Business Solutions portfolio, this latest service is designed for business customers in the retail industry who wish to offer a regulatory compliant WiFi service to enhance their customers' experience.
Announcing the start of this new service, Nawras Chief Strategy Officer, Abdulla Al Rawahy, said, "Nawras WiFi service takes broadband usage to a new level. The availability of a secured and legal WiFi service at your establishment that can be sold or offered free to your customers is a reliable way to increase customer footfall and build loyalty for repeat visits."
Khaled El Dalaty, Operations Manager, Dunkin Donuts, expressed his delight with the new service from Nawras and went on to say, "We at Dunkin Donuts are trying to give our customers exciting and new experiences, we are proud to provide free WiFi to our customers and to be the first company in Oman to offer Nawras WiFi. Everyone wants to stay in contact for business or personal reasons and we are pleased to partner with Nawras in making this possible at our Al Khuwair Dunkin Donuts outlet. We will soon have all Dunkin Donuts outlets covered with Nawras WiFi so that our customers can enjoy the cyber sphere in a Dunkin Donuts atmosphere."
As with all its products and services, Nawras WiFi is easy to use. Customers simply request a WiFi access card at the same time as they buy their refreshments and then choose the applicable wireless network from their WiFi enabled laptop, tablet or handset. There are only two simple steps to follow in order to receive internet access and benefit from fast Nawras broadband.
In line with the company's commitment to operating in a responsible way, Nawras is using totally recyclable paper cards for the new WiFi service. Furthermore, the cards are manufactured locally.
Businesses wishing to increase their number of customers by offering Nawras WiFi are invited to visit the company's award winning website at www.nawras.om/wifi for full details of the service. Alternatively, speaking to a friendly professional at any Nawras Store or calling 9501 1503 will allow Nawras to explain the great advantages of this pleasingly different service as well as its variety of competitive price plans and great value packages.
Nawras is dedicated to delighting customers in every aspect of their communication experience by delivering caring, excellent and pleasingly different services.