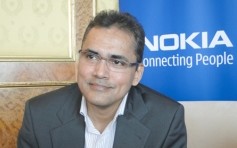 Nokia E7 launched in Egyptian market
Mathia Nalappan, Nokia General Manager in North Africa, along with Brad Brockhaug, Nokia Head of Sales of Africa shared with Egyptian media Nokia latest new strategy and future plan.
The general manager of the Finnish brand stated "Nokia continues to be committed to the Egyptian market and to maintain leadership. We are still keen on having local knowledge and talent in our Egypt office", Nalappan added. We also will continue to hire directly and indirectly many local talents in our employees, field forces, agencies, distributors, care partners, etc."
On this occasion Mr. Nalappan also announced that Nokia started the shipping of the latest brand new E7 device this month. The highly anticipated Nokia E7 is available today in Egypt stores.
With its tilting 4 inch ClearBlack display, full QWERTY keyboard and a fast access to a wide variety of apps directly on the homescreen, the Nokia E7 is the key to having a successful day in or out of the office. Importantly, the device supports business applications from leading enterprise technology partners including Microsoft and IBM. Of course, there's also all the other features that you've come to expect from a new Symbian device, with access to Ovi Store for great apps and free drive and walk navigation across 80 countries with Ovi Maps.
"People are continuing to look for solutions that suit both their work and personal life; in business circles this is known as the 'consumerization' of IT. The Nokia E7 gives people the confidence to bring their own smartphones to the workplace to connect securely to corporate messaging servers," said Mathia Nalappan, General Manager for Nokia North Africa.
"On the other hand, whether you are an artist, entrepreneur, university student or aspiring world traveller, the Nokia E7 is the only smartphone you will need to get the world's best mobile navigation and mapping application, thousands of apps, millions of music, and a rich messaging experience."
For business users, Nokia E7 provides direct, secure and real-time access to email, calendar, contacts, tasks and the corporate directory through Microsoft Exchange servers, as well as Office Communicator Mobile, developed by Microsoft for Nokia smartphones, which brings presence and corporate instant messaging.
Additionally, a wide range of entertainment and social services available on the Nokia E7 make it the perfect off-duty companion, and the Ovi Store offers a wealth of Global apps such as Bloomberg, Angry Birds; Gravity and Sports Tracker as well as few other local ones, like Wasalny, Otlob, Masrawy, Stock Tracker for local stock exchange.
The new arrival offers drive or walk navigation in 80 countries. The latest commercial version of Ovi Maps, available immediately via Ovi Store or Ovi Suite, adds visibility to subways, trams and trains, real-time traffic, safety alerts, visibility to parking and petrol stations, speed limit warnings, and improved search and location sharing capabilities.
Here are more reasons why the Nokia E7 is the all-in-one business smartphone:
• Easy access to private and business email
• Create, edit and share office documents and view PDF files with Adobe Reader
• Fast, secure intranet access with the built-in VPN
• High-resolution photos and HD video with the 8 megapixel camera and dual LED flash
• HDMI connectivity to project files, videos and images onto large screens
• 16 gigabytes of on-board flash memory
• USB-On-The-Go, enabling easy file sharing by connecting a USB stick to the smartphone
The Nokia E7 comes with an 8-megapixel full-focus camera with dual-LED flash. The camera can also shoot HD Video. There's also an HDMI adapter so you can use the device to show off your photos and videos, not to mention business presentations, on large displays and using projectors. There's 16GB of on-board flash memory. If that isn't enough, or you need to share files, you can use the USB-On-The-Go feature to attach USB memory sticks.
The same technique can also be used for accessories such as the recently released digital radio and DVB-TV adapters. The Nokia E7 provides secure access to email, calendar, contacts and tasks through Microsoft Exchange server. You also get Microsoft Communicator Mobile, for secure corporate instant messaging.
For smaller businesses and individuals, naturally it supports other POP/IMAP services like Gmail, Hotmail and thousands of other domain names. For the technically inclined, the device measures 123.7 x 62.4 x 13.6mm and weighs 176g. The battery is rated for up to five hours talk-time over WCDMA (more over GSM) and 430 hours standby. It offers pentaband communications for international travellers, 3G data rates up to 10.2 Mbps over HSDPA and 802.11 b/g/n WiFi. The device is available in the same colours as the Nokia N8: dark grey, silver-white, blue, green and orange.