PCCW Global and ITC sign strategic alliance agreement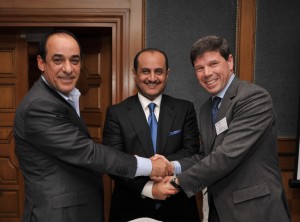 PCCW Global, an operating division of HKT, Hong Kong's premier telecommunications service provider, and Iraq's Investment & Technology Group Company (ITC) have signed a strategic alliance agreement.
ITC has won a 15-year investment license from Iraq Telecommunication and Post Company (ITPC) to market transmission capacity over the new Gulf Bridge International (GBI) fiber optic cable network connecting all the Gulf coast countries with Europe and Asia. GBI is a privately-owned fiber optic cable company backed by sovereign wealth funds from the Middle East region. ITC's largest shareholder is Al Mal Investment Co., one of the largest investment management companies in Kuwait, which owns 50% of ITC.
The collaboration enhances Iraq's connection to the rest of the world via PCCW Global's extensive and robust network which is already connected to over 1,800 cities in 120 countries. PCCW Global's customers worldwide, especially those based in the Middle East-Africa region (MEA), can now access virtually all cities and locations in Iraq through a combination of copper, fiber, microwave, and satellite solutions offered by PCCW Global and ITC.
Mr. Fadil Mosawi, Chairman of Investment and Technology Group Company, said, "Together with the new GBI fiber cable, the Iraqi people will soon be able to connect to the rest of world with higher Internet connection speed and enjoy new services including Voice over IP, High Definition TV, as well as a host of other business applications such as cloud computing. Video Teleconferencing will make doing business with Iraq simpler and more efficient. Healthcare institutions and universities will also benefit from the availability of large bandwidth and higher access speeds."
Mr. AL Kharafi, Chairman of Al Mal Investment Co., said, "This milestone collaboration marks a new chapter for Iraq as it is one of the most significant steps in rebuilding Iraq and its economy. We believe having a strong partner like PCCW Global with a track record of providing advanced communication solutions is important to foster the development of business community in Iraq."
Mr. Marc Halbfinger, Chief Executive Officer of PCCW Global, said, "Iraq is experiencing rapid growth in its telecommunications sector. We are excited to collaborate with Al Mal and Iraq's Investment & Technology Group Company to expand our global footprint into this market with huge opportunities. This collaboration further enhances our leading position as a preferred partner for integrated global communication solutions in the Middle East region."