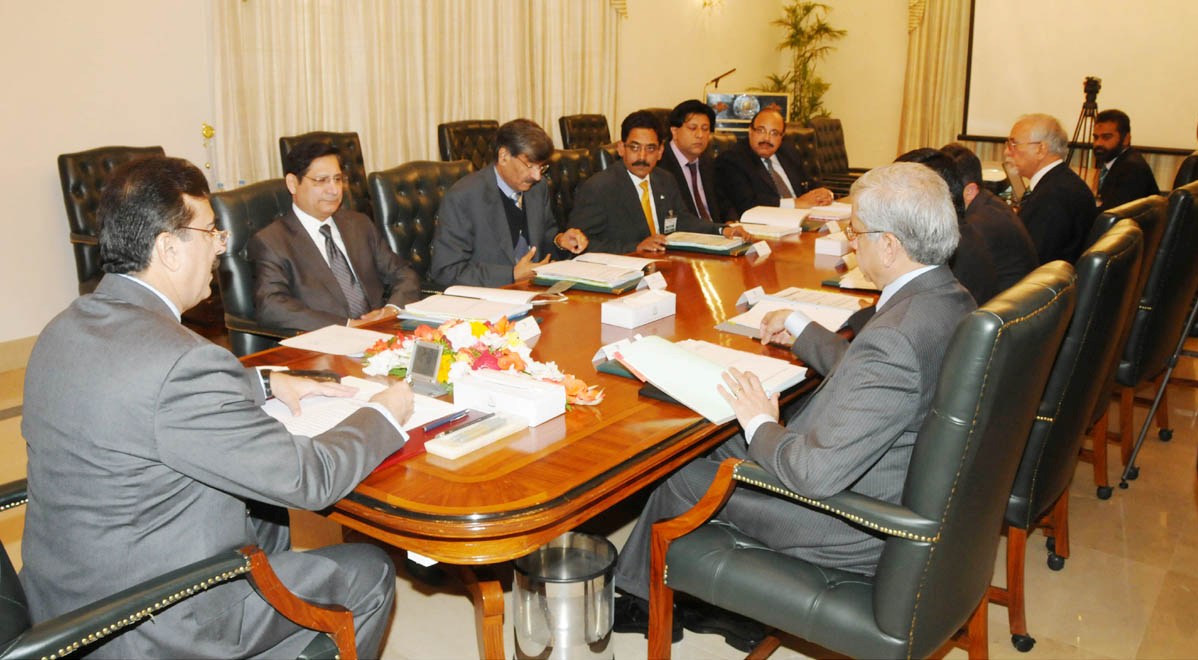 Prime Minister approves USF projects in Balochistan and Sindh
Prime Minister Syed Yusuf Raza Gilani as the Chairman of the Board of Universal Service Fund (USF) presided over the 26th meeting of Board of Directors of Universal Service Fund, which was held at the Prime Minister's House today. The meeting approved the programmes to provide basic telephony and data services in Mastung Lot (Balochistan), broadband services in Southern Telecom Region-V (Sindh) and decision to initiate more projects in Balochistan.
The Prime Minister said that it was heartening that telecom sector was the fastest growing sector of the country's economy and had been an attractive sector both for domestic and foreign investors.
The Prime Minister said that Pakistan should march shoulder to shoulder with the developed world and introduce latest trends and technologies to realize the fruits of advancements in the digital world.
The Prime Minister urged the Universal Service Fund to enhance equitable services to all segments of the society and also ensure that funds are used economically as well as prudently.
Apart from this, Prime Minister also laid emphasis on initiation of more projects throughout Pakistan, especially Balochistan using all technologies such as Optic fiber, Microwave, Satellite and telecom Excellence centers.
Prime Minister also directed to conduct training for people living in un-served areas so that direct and indirect employment opportunities can be created for them and digital divide can be bridged.
The members of the Board apprised the meeting that the Rural Telecom Project in Mastung Lot, basic telephony and data services will be provided to a population of 74,831 people which reside in 102 muzas. Mastung Lot consists of Mastung, Nushki and Ziarat districts.
In broadband project of Southern Telecom Region-V, the Board members said that broadband services would be provided in 73 towns and cities in 10 districts namely Ghotki, Jacobabad, Kambar Shahdadkot, Kashmore, Khairpur, Larkana, Naushahro feroze, Shaheed Benazir Abad (Nawabshah), Shikarpur and Sukkur. The project aims at provision of 78,000 broadband connections in these districts.It was also disclosed that in addition to this, 206 Educational Broadband Centers (EBCs) would be established in higher-secondary schools and colleges and 93 Community Broadband Centres (CBCs) for those who cannot afford to have their own PCs.
The members of the Board said that USF had made immense progress under the present Government and due to the guidance of Prime Minister of Pakistan. In Rural Telecom Programme USF has provided basic telephony and data services in more than 3,500 muzas. Broadband services have been provided in 256 2nd and 3td tier cities and towns along with providing almost 334,000 broadband connections and establishing 943 EBCs and 291 CBCs, the meeting was apprised. In Optic Fiber Programme, around 3,960 kms of optic fiber cable has been laid to connect 58 un-served tehsils and towns. To take broadband internet to the villages, USF has launched another Program. The pilot project of that program is also under implementation aiming to bring the most modern e-Services through broadband, down to the village level. With these achievements, USF has created a success story for the public-private partnership entities nationally and internationally, the meeting was told.
Secretary IT, Saeed Ahmad khan, Chairman-PTA, Dr Muhammed Yaseen, Member-Telecom, Dr. Ismail Shah, CEO-ISPAK, Azfar Manzoor, Representative of Consumer Association of Pakistan, Kaukab Iqbal and CEO-USF, Riaz Asher Siddiqui also attended the meeting as directors of USF Board.