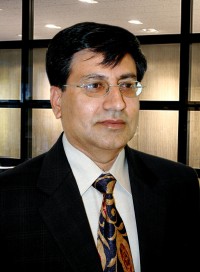 PTA wants IMEI-less phones banned
Pakistan Telecommunication Authority (PTA) has suggested to the Ministry of Information Technology to ban those handsets at Customs stage that do not have IMEI numbers and stop their sale in the country.
Chairman PTA Dr Mohammad Yaseen, while talking to reporters at Connect ICT Forum 2011 at Karachi Expo Centre on Wednesday, said that imported mobile phones do not have type approval. In 2005, which was a fast growth period of cellular industry, the government relaxed conditions and allowed sets without type approval.
He emphasised that the local assembling and manufacturing of low-priced smart phones would start soon in the country by Pakistani companies in collaboration with a chip designer and Chinese manufacturers.
He said several memorandums of understanding (MoUs) have been signed recently between local companies and Chinese manufacturers and chip designer Falcom for producing smart phones in Pakistan.
About the misuse of SIMs, he said that PTA has blocked 16.5 million mobile SIMs. During the third phase of the on-going data cleansing, PTA is receiving 400,000 quests per day on its complaint number 668.
Yaseen hoped that no unidentified SIMs would remain in cellular phone network after May 17, which is the last date to confirm the validity of SIMs and clean up mobile phone record.
He said the sale of handsets would not be affected due to the campaign.
On mobile phone banking, he said that a final meeting would be held between PTA and State Bank of Pakistan on May 11 to discuss modalities and authentication issues.
Earlier, speaking at the Forum, he said that PTA would again arrange meetings between service providers and academia to encourage development in information and communication technology. Executive vice president PTCL Niaz Malik talked about the importance of data centers in Pakistan. He said that PTCL's data centers are 50 percent more efficient than they were in yesteryears.
Country Head, Pakistan and South Asia, Communications Oracle Corporation, Singapore, Asif Ijaz, Country Director Pre-sales Pakistan, Afghanistan and Iran Alcatel- Lucent Pakistan Ltd, Fouz Sattar, CEO TEXPO UAE and Pakistan, Dr. Sarfraz Alam and CEO
Augere Pakistan, Mobashar Naqvi, also made presentations.