Samsung Electronics Levant celebrates the launch of GALAXY Note 3 & GALAXY Gear in Jordan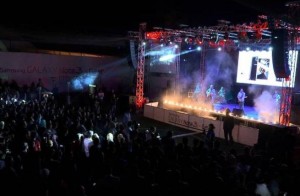 Samsung Electronics Levant, a global leader in digital media and digital convergence technologies, recently celebrated the launch of its latest smartphone GALAXY Note 3 and its smart watch GALAXY Gear in an event that was held at The Dome.
Welcoming the guests, Jordanian media representative Hala Yaghmour, announced the start of the event and invited them to enjoy an evening full of activities and entertainment segments that embodied the GALAXY Note 3 and GALAXY Gear features and get the chance to experience the new device and win the GALAXY Note 3.
During the event Samsung Electronics Levant gave away ten GALAXY Note 3 devices to lucky attendees through 3 raffle draws, the brand new devices were presented to the winners by Mr. Daniel Lee, Business Director of Samsung Mobile, Mr. Mutasem Shehadeh, Head of Hand Held Phones Unit at Samsung Electronics Levant, & Mr. Fadi Baranis Vice President of BCI, the authorized dealer for Samsung mobile phones in Jordan.
Mr. Bumsuk Hong, President of Samsung Electronics Levant, welcomed the attendees by saying: "It is with great pleasure to welcome you all at the launch of yet another flagship innovation by Samsung Electronics the GALAXY Note 3 & Samsung's smart watch GALAXY Gear. An innovation that is designed to keep us connected and add integration to our daily lives."
"Samsung Electronics has affirmed its leadership in the smartphone market through continuous commitment to research and development. Since the launch of the first Note phone, which paved the way for big screen smart phones, the Note 3 introduces advanced features and strong performance to meet the consumers' needs", he added.
Guests enjoyed various activities throughout the evening, which included entertainment segments featuring LED Robots, fire dances and a performance by Jadal Band who debut their video that was prepared in cooperation with Samsung Electronics Levant. The event also allowed guests to experience the characteristics of the Note 3 and GALAXY Gear through a booth presenting the unique features that offer integration for user's daily life duties.
Samsung Electronics ,Levant , launch , GALAXY Note 3 , GALAXY Gear , Jordan