Spectrami Empowers Enterprises to secure and manage advanced threats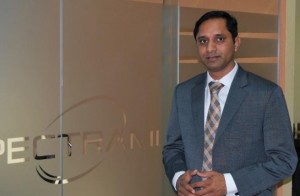 Spectrami, the leading value added distributor in the MENA region announced that it has recently organized TechCafe' a workshop to address the growing concerns and challenges faced by enterprises in the Kingdom of Saudi Arabia about the increase in the level of sophistication and advancement in IT security attacks.
Spectrami in association with General Dynamics Fidelis Cybersecurity Solutions organized the latest edition of TechCafe' at Hotel Marriott in Riyadh, Saudi Arabia to empower enterprises in the kingdom to secure and manage advanced threats efficiently.
General Dynamics Fidelis Cybersecurity Solutions are the pioneers in advanced threat prevention and management and has been ranked by Gartner as one of the leading Specialized Threat Detection solution provider in the world.
Enterprises hailing from Telecom, Banking, Government, Healthcare were the prime target of this TechCafe' to update them about the emergence of new Advanced Persistence Threats. The main aim for the workshop was to highlight the disruptive nature of advanced threats for businesses and how Fidelis can secure enterprises against such threats.
The Director Technical of Spectrami, Mr. Sarfaraz Kazi made a presentation on Advanced Threat Defense, specifically tailored for the enterprises in Saudi Arabia. He also shared several examples from across the globe of recent advanced attacks. Sarfaraz also discussed how Fidelis as a solution is effective in protecting enterprises against advanced attacks.
During the workshop, live demonstration of advanced attack vectors and protection was also given which showcased real time analysis and protection. The workshop also covered newer features such as adversarial attribute identification and using threat intel in existing security system to protect against the threats.
Workshop was well received by the enterprises in Saudi Arabia and saw major names in the industry attend TechCafe'. The companies present at the event were Mobily, Arab National Bank, Samba Bank, Ministry of Finance among others representing the key segments of the economy.
Anand Choudha, Managing Director, Spectrami, said, "TechCafe' provides an excellent platform for both technology provider and technology user to understand each other's requirements, which helps in selecting a right technology and right solution. Fidelis offers the best of the breed technology solutions for the management and prevention of advanced threats to the enterprises in Saudi Arabia."